One can get the articles presented in the conference from here: https://tinyurl.com/icsob
The overall schedule of the program is presented here.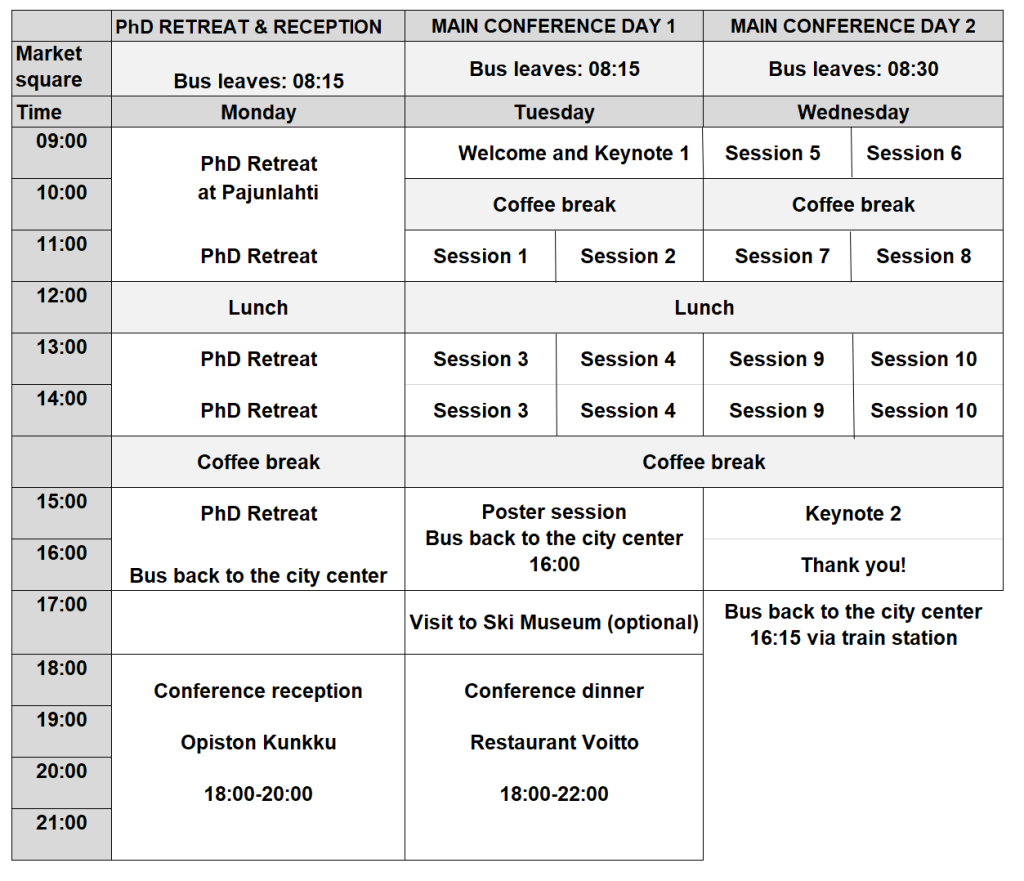 Monday
09:00-17:00 - PhD Retreat
This year, we are again happy to introduce the concept of PhD retreat in ICSOB. PhD retreat is for PhD candidates who have accepted PhD retreat proposal, and for the mentors. See the full program here.
18:00 Welcome Reception and Best Reviewer award at Opiston kunkku (Harjukatu 46, Lahti)
The welcome reception is a relaxed event for everyone participating in ICSOB 2023. There will be some light food served and during the evening we will also award the best reviewer. Doors will open at 18:00, and we will start the official program at 18:30. You can also register for the conference in the welcome reception!
Tuesday
8:15 Bus leaves from the city center
8:00 Registration opens
8:45 Welcome & Opening Keynote #1: Paavo Ritala "The Generative AI Paradox: Strategizing in the New Wave of General-Purpose Technologies " at Aud 2
10:00 Coffee at Aud 1
 
Session 1 (Aud 2)
Session 2 (Aud 3)
D252
10:30 – 12:00

Chair: Andrey Saltan

Strategic Digital Software Product Management in the Age of AI (Helena Holmström Olsson and Jan Bosch)
Research Streams of Barriers to Digital Transformation: Mapping Current State and Future Directions (Henning Brink, Fynn-Hendrik Paul and Sven Packmohr)
An Evaluation of the Product Security Maturity Model through Case Studies at 15 Software Producing Organizations (Elena Baninemeh, Harold Toomey, Katsiaryna Labunets, Slinger Jansen and Gerard Wagenaar)
Experimentation in Early-Stage Video Game Startups: Practices and Challenges (Henry Edison, Jorge Melegati and Elizabeth Bjarnason)

Chair: Tero Päivärinta

Navigating ICT In-House Procurement in Finland: Evaluating Legal Frameworks and Practical Challenges (Reetta-Kaisa Ghezzi, Minnamaria Korhonen, Hannu Vilpponen and Tommi Mikkonen)
A Survey on Perceptions of Data Sharing in the Norwegian Public Sector (Leif Z. Knutsen, Bertha Ngereja, Jo E. Hannay, Sinan S. Tanilkan and Ingebjørg Flaata Bjaaland)
Exploring the Finnish Impact Investing Ecosystem: Perspectives on Challenges from Technology Startups (Timo Okker, Rahul Mohanani, Tommi Auvinen and Pekka Abrahamsson)
Artificial Intelligence Procurement Assistant: Enhancing Bid Evaluation (Muhammad Waseem, Teerath Das, Teemu Paloniemi, Miika Koivisto, Eeli Räsänen, Manu Setälä and Tommi Mikkonen)

Workshop: Using Hypothesis Engineering to Manage the Software Architecture Evolution in an Environment with Uncertain Requirements
12:00 – 13:00 Lunch, First floor, restaurant ISKU Center, business line
 
 
Session 3 (Aud 2)
Session 4 (Aud 3)
D252
13:00 – 14:30

Chair: Dominik Siemon

Functional Requirements for Enterprise Data Catalogs (Dimitri Petrik, Anne Untermann and Henning Baars)
Investigating Open Innovation Practices to Support Requirements Management in Software Ecosystems (Paulo Malcher, Davi Viana, Pablo Oliveira Antonino and Rodrigo Santos)
Investigating the Barriers that Women Face in
Software Development Teams Focusing on the
Context of Proprietary Software Ecosystems (Juliana Outão, Luiz Costa, Rodrigo Santos and Alexander Serebrenik)

Chair: Krzysztof Wnuk

On Public Procurement of ICT Systems: Stakeholder Views and Emerging Tensions (Reetta-Kaisa Ghezzi and Tommi Mikkonen)
Who Does What? Evolving Division of Responsibilities in a B2B Platform (Jaakko Vuolasto)
Understanding User Feedback in Software Ecosystems: A Study on Challenges and Mitigation Strategies (Bachan Ghimire, Ze Shi Li and Daniela Damian)
Requirements tool practices that drive business agility (Andreas Birk)

Workshop: Using Hypothesis Engineering to Manage the Software Architecture Evolution in an Environment with Uncertain Requirements (cont'd)
 
14:30 Coffee, Poster pitches and Demonstrations at Aud 1.
Transforming Software Products for Intelligent Automation Services
(Damian Kedziora, Dominik Siemon and Edona Elshan)

AI-driven digital business design assistant
(Dmitry Kudryavtsev)

Exploring the 6G Software Business Ecosystem: A Morphological Analysis Approach
(Nan Yang)

Lahti Software City: evidence of regional development in IT & Software Industry
(Damian Kedziora, Roosa Pipatti and Sonja Hyrynsalmi)

"Agile X"—Inconsistent and Loosely Defined Terminology Hampers Fundamental Software Agility Research
(Petri Kettunen, Fabian Fagerholm and Tomi Männistö)

Digital Sovereignty from the Perspective of IT Consultancy in Germany: A Model
(Martha Klare and Ulrike Lechner)

The Effects of Quality of the Technology on Learning Performance in Remote Lectures
(Joonas Himmanen, Rahul Mohanani and Xiaofeng Wang)

Quantum computing: A concept and business perspective
(Nasreen Azad)

Diversity, Equity and Inclusion in The Age of Generative AI - Representation of Software Engineer in Generative AI image tools
(Sonja M. Hyrynsalmi)

Energy consumption and CO2 emissions of a software – who is responsible?
(Laura Partanen, Antti Sipilä and Jari Porras)

AI Assistant to Improve Experimentation in Software Startups Using Large Language Model and Prompt Engineering
(Mario Simaremare)

Hybrid work in agile software development
(Emily Christensen)

Creating Happier and More Productive Software Engineering Teams through AI and Machine Learning
(Wardah Naeem Awan)

The impact of DevOps critical success factors and organizational practices
(Nasreen Azad)

IT Infrastructure Management: A Future Digital Services Context
(Maryam Gulzar)

Green ICT and Software Business Ecosystem Orchestration: A Catalyst for Economic Growth and Future-sustainable Environment
(Larry Abdullai)

Supporting Finnish ICT companies to uncover their pathways in the green transition: Seeking ways through the lens of DSR
(Laura Partanen)
16:00 Bus leaves from the campus    
17:15 Buss to the Lahti Ski Museum leaves  from the market square
17:00 Lahti Ski Museum opens    
18:00 Dinner at restaurant Voitto, next to Lahti Ski Museum
Wednesday
8:30 Bus leaves from the city center
8:30 Registration
 
Session 5 (Aud2)
Session 6 (Aud 3)
9:00 – 10:00

Chair: Xiaofeng Wang

What is the Cost of AI Ethics? Initial Conceptual Framework and Empirical Insights (Kai-Kristian Kemell and Ville Vakkuri)
Towards a Business Case for AI Ethics (Mamia Agbese, Erika Halme, Rahul Mohanani and Pekka Abrahamsson)

Chair: Petri Kettunen

Improving Communication and Collaboration in Enterprise Architecture Projects: Three Propositions from Three Public Sector EA Projects (Ari Rouvari and Samuli Pekkola)
Dynamic Capabilities for Sustainable Digital Transformation Amid Crisis: Insights from Law Firms in Emerging Economy (Mikhail O. Adisa, Gbadebo A. Ojikutu, Larry Abdullai, Shola Oyedeji and Jari Porras)
 
Session 7 (Aud2)
Session 8 (Aud 3)
C248
10:30 – 12:00

Chair: Andreas Birk

Positive customer experience is enhanced by effective agile practices (Riina Piiroinen, Ilkka Jormanainen and Markku Tukiainen)
DevOps challenges and Risk mitigation strategies by DevOps professionals teams (Nasreen Azad)
Information-Centric Adoption and Use of Standard-Compliant DevSecOps for Operational Technology: From Experience to Design Principles (Henry Haverinen, Tero Päivärinta, Jussi Vänskä and Henry Joutsijoki)
Exploring Emotions in Online Meetings: Unpacking Agile Retrospective Teams (Dron Khanna and Abdullah Aldaeej)

Chair: Slinger Jansen

Feeling the Elephant: Insiders' Perspectives on the Metaverse (Fabrício de Oliveira, Xiaofeng Wang and Luciana Zaina)
Understanding Cost Dynamics of Serverless Computing: An Empirical Study (Muhammad Hamza, Muhammad Azeem Akbar and Rafael Capilla)
Carbon footprint calculations for a software company – adapting GHG Protocol scopes 1, 2 and 3 to the software industry (Antti Sipilä, Laura Partanen and Jari Porras)
Quantum Software Ecosystem: Stakeholders, Interactions and Challenges (Vlad Stirbu and Tommi Mikkonen)

Workshop: The Value of Digital Twins for Design Thinking in Digital Agility: The Scene2Model Approach
12:00 – 13:00 Lunch, First floor, restaurant ISKU Center, business line
 
Session 9 (Aud2)
Session 10 (Aud 3)
C248
13:00 – 14:30

Chair: Kai-Kristian Kemell

Benefits, Challenges and Implications of Open-Source Software for Health-Tech Startups: An Empirical Study (Noman Ahmad and Nirnaya Tripathi)
Corporate Startups: A Systematic Literature Review on Governance and Autonomy (Konstantin Garidis, Alexander Rossman and Alan Murray)
Startup creation beyond hackathons – A survey on startup development and support (Maria Angelica Medina Angarita, Alexander Nolte and Martin Kolnes)
Practitioner Views on Defining Analytics for Software Startups: A Preliminary Guide Based on Gray Literature (Usman Rafiq, Frederic Pattyn and Xiaofeng Wang)

Chair: Samuli Pekkola

Business and ethical concerns in domestic Conversational Generative AI-empowered multi-robot systems (Rebekah Rousi, Hooman Samani, Niko Mäkitalo, Ville Vakkuri, Simo Linkola, Kai-Kristian Kemell, Paulius Daubaris, Ilenia Fronza, Tommi Mikkonen and Pekka Abrahamsson)
Prompt Patterns for Agile Software Project Managers: First results (Kari Sainio, Tero Ahtee and Pekka Abrahamsson) 
Are business expectations aligned with the development plan made by the software architecture area? A case study on Agile teams in a large company (Marcelo Silva, Inaldo Costa and Eduardo Guerra)
Starting Collaborations Between SMEs and
Researchers in Software Engineering (Sergio Rico, Felix Dobslaw and Lena-Maria Öberg)

Workshop: The Value of Digital Twins for Design Thinking in Digital Agility: The Scene2Model Approach continues
 14:30 Coffee at Aud 1
15:00 Keynote Barbara Hoisl "The Gift of Thinking Big - What Software People Can Give to the World" at Aud 2
16:00 Closing words at Aud 2
16:15 Bus leaves from the conference venue, travels through railway station (Matkakeskus) to the city center
Please note that during ICSOB we offer once-in-a-day transport to the venue and back to the city center. We also offer transportation to and from the dinner venue, a trip to the PhD retreat, and on the last day of the conference, the bus goes through the train and bus station to the city center.
The bus leaves from the city center, market square (address: Marolankatu).
Bus schedule:
Monday 08:15    Market square, Marulankatu - PhD retreat location, Pajulahti
Monday 16:30    PhD retreat location, Pajulahti - Market square (takes around 30 min.)
Tuesday 08.15    Market square, Marulankatu - Conference venue (Mukkulankatu 19, Lahti)
Tuesday 16:00    Conference venue - Market Square, Marulankatu
Tuesday 17:15     Market square, Marulankatu - Ski Museum & Conference dinner
Tuesday 22:00    Ski Museum & dinner (Salpausselänkatu 8, Lahti) - Market square
 
Wednesday 08:30 Market square – Conference venue
Wednesday 16:15 Conference venue - Market square, via railway station and bus terminal
Keynote: The Gift of Thinking Big - What Software People Can Give to the World – Barbara Hoisl
As software business people, we possess a unique gift we can give to the world. This gift is our ability to "think big" – to envision that entire economies, markets, and specific competitor landscapes may change very quickly, and to plan accordingly.
Some claim this ability to "think big" is a gift, an innate talent that some people have and others don't. However, Barbara believes thinking big is a mindset honed through lived experience in an industry marked by exponential change – such as the software industry. Thinking big leverages specific approaches for dealing with fast-changing environments, for example in competitive analysis, strategy work, or forecasting.
Currently, it's no longer just the software industry experiencing exponential change. As software and AI become part of many products and services, they introduce the dynamics of the software industry into physical products (IoT, Industrial IoT) and services. Many high-tech sectors are shaken up by adopting technologies on steep industry learning curves, such as new materials, biotech & life sciences, or renewable energy creation & storage.
That's why the world needs the unique perspective that we as software people can contribute to our societies – to inspire and shape the future.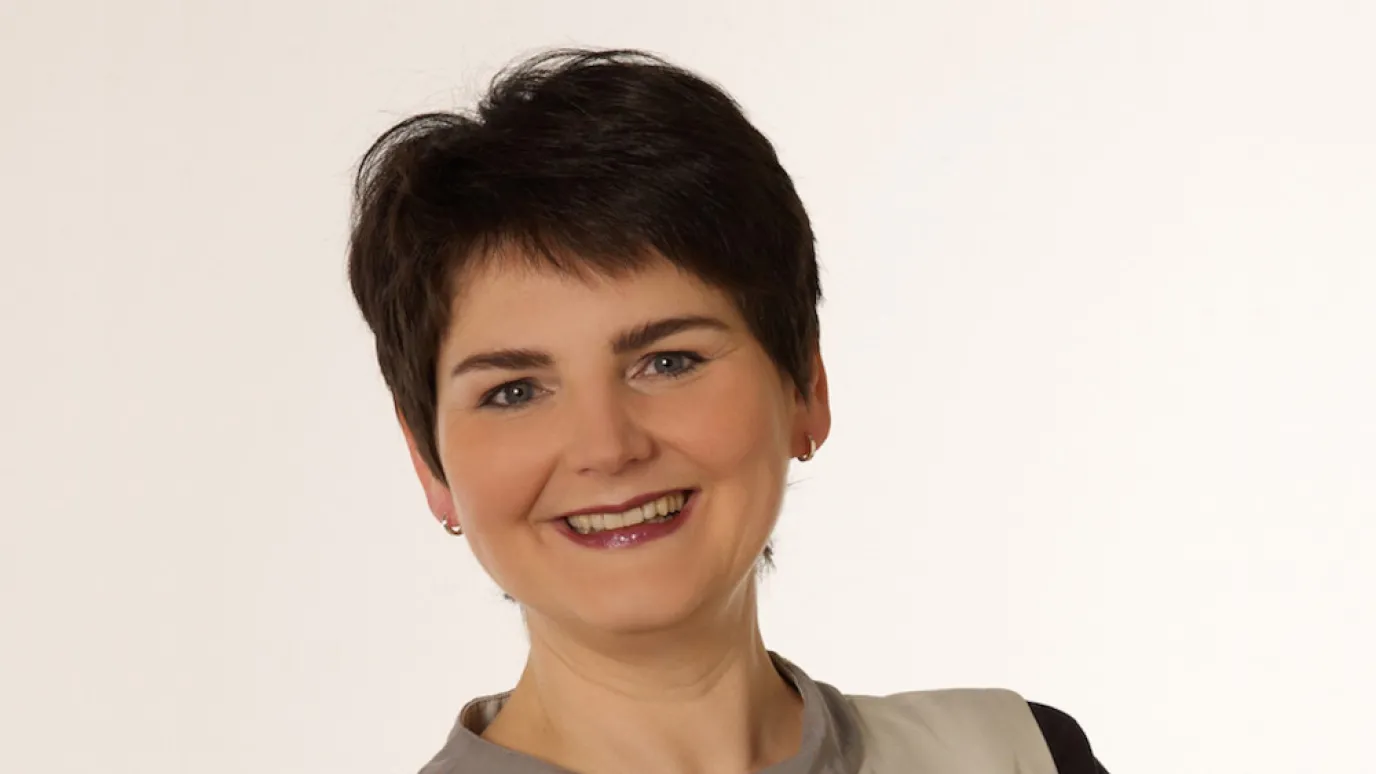 Barbara Hoisl
Barbara Hoisl is a strategy expert and consultant, specializing in "Exponential Strategy – Thriving in a world driven by exponential change".

She draws on more than 30 years of direct, first-hand experience in the global software and Internet industry, including 14 years with the software business unit at Hewlett-Packard (HP).

Her German-language reference book on innovation strategy for vendors of IoT products was published by Springer Gabler in 2019: "Produkte digital-first denken: Wie Unternehmen software-basierte Produktinnovation erfolgreich gestalten".

Barbara holds a master's degree in Computer Science from Technical University of Kaisers-lautern. She is a fellow of the ISPMA (International Software Product Management Associa-tion) and partner at pd7.group, a leading provider of ISPMA-based certification courses for software product managers.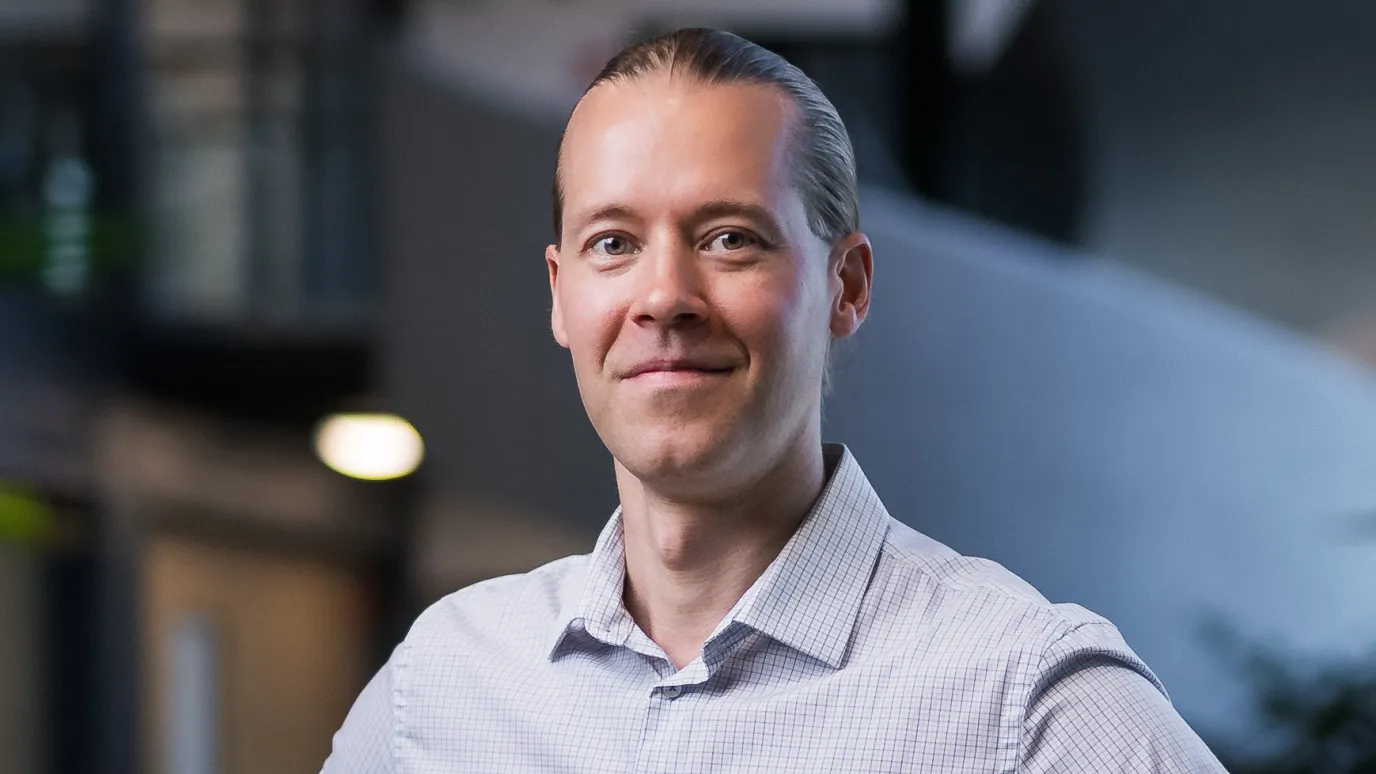 Paavo Ritala
Paavo Ritala is a Professor of Strategy and Innovation at LUT School of Business and Management (LBM). His main research themes include ecosystems and platforms, the role of data and digital technologies in organizations, collaborative innovation, sustainable business models, and circular economy.

His research has been published in journals such as Journal of Management, Research Policy, Journal of Product Innovation Management, R&D Management, Technovation, Long Range Planning, Industrial and Corporate Change & California Management Review.

He is closely involved with business practice through research projects, executive and professional education programs, and in speaker and advisory roles. Prof. Ritala is the Co-Editor-in-Chief of R&D Management and he serves in the editorial board of Journal of Product Innovation Management.