On this page
left
June 13
Morning

9:00 Registration and morning coffee

10:00 Opening NOFS19

Professor Mika Mänttäri, Symposium Chair, LUT University
Morten Lykkegaard Christensen, Nordic Filtration Society, Aalborg University
KEYNOTE: 

The role of circular economy in fulfilling the mineral needs of energy transition,

Kimmo Tiilikainen, Director General, Finnish Geological Survey GTK

 

Session 1: Dewatering 11:00 - 12:00

How tailings dewatering with decanter centrifuges is outperforming filtration systems, Amol Chinchankar, Alfa Laval Mining, Sweden
Dewatering of lake sediment – Phosphorus and ecotoxicology, Gustav Simoni, Aalborg University, Denmark
Ultrasonic treatment and electrically assisted dewatering of P&P mill wastewater sludges, Teemu Kinnarinen, LUT University, Finland

Lunch
Poster session
Afternoon

Session 1: Dewatering (continues) 13:00 - 14:20

Methods for the measurement of water permeability for filter media, Marina Ängeslevä, Porometer, Belgium
Mechanical compression of lime mud, Tatu Kärki, LUT University, Finland
Acidic wastewater treatment plants in mining and metals industry, Mohammad Golmaei, AFRY, Finland
Future trends in material handling systems for minerals processing, Timo Kupsanen, Laitex Oy, Finland

 

Session 2: Separation of critical metals 14:50 - 16:10

Battery recycle filtration, case Roxia, Matti Luoma, Roxia Filtration, Finland
Process development of a continuous ion exchange process in battery metals recycling: From single column experiments towards the simulated moving bed configuration, Tobias Wesselborg, LUT University, Finland
Membrane distillation for lithium recovery from brine, Aamer Ali, Aalborg University, Denmark
Solvent extraction in metal recycling: Focus on phase separation, Niklas Jantunen, LUT University, Finland

Evening
18:30 - 19:30 Visit to Metso Filtration Competence Center. Read more
 
19:30 - 22:30 Get together at Restaurant Lappeenrannan Kasino
right
June 14
Morning

Session 3: Membrane fouling 9:00 - 10:00

Inorganic scale prevention for the bipolar membrane electrodialysis, Frederick M.S. Christensen, Aarhus University, Denmark
Perspectives of membrane fouling monitoring by 3ω sensing, Mads Koustrup Jørgensen, Aalborg University, Denmark
Effect of fouling on recovery of recominant protein by membrane  perfusion filtration, Malene Heilskov Veje, Aalborg University, Denmark

 

Session 4: Membrane prospects in protein shift 10:20 - 11:40

KEYNOTE: Membrane processes in the times of the protein-shift, Professor Frank Lipnizki, Lund University, Sweden
Recovery of food- and feed-grade proteins from fresh grass juice using membrane separation, Mads Koustrup Jørgensen, Aalborg University, Denmark
The application of ultrafiltration for the extraction of food grade proteins from grass, A. Kjær Jørgensen, Aalborg University, Denmark

Lunch
Poster session
Afternoon

Session 5: Novel applications of membranes 12:40 - 15:00

Development of nanofiltration membranes for offshore recovery of H2S scavenger chemicals, Jens Muff, Aalborg University, Denmark
Cellulose membranes in treatment of spent deep eutectic solvent used to extract lignin from hardwood, Vadim Ippolitov, LUT University, Finland
Exploring novel universal 2D carbon-based materials for H2 gas separation from mixtures and further potential applications, Dániel Gardenö, University of Chemistry and Technology in Prague, Czechia
NO3 recovered from an industrial side stream, Hanna Kyllönen, VTT Technical Research Centre of Finland, Finland
Hydrophilic cellulose membranes in the treatment of wool scouring effluents, Tiina Rissanen, LUT University, Finland
Membrane modification strategies for high performance enzymatic membrane reactors, Ziran Su, Technical University of Denmark, Denmark 
Sustainable power generation from salinity gradients via pressure retarded osmosis (PRO): Membrane modifications for improved mechanical stability, Magdalena Malankowska, Technical University of Denmark, Denmark

 

Session 6: Techno-sustainability in mining 15:20 - 16:00

KEYNOTE: Sustainable solutions for future mining, Jani Kiuru, SVP Raw Materials, Finnish Mineral Group 

 
Excursion* 16:15 - 18:00
Evening
19:30 - 23:00 Conference dinner at Restaurant Wanha Makasiini
left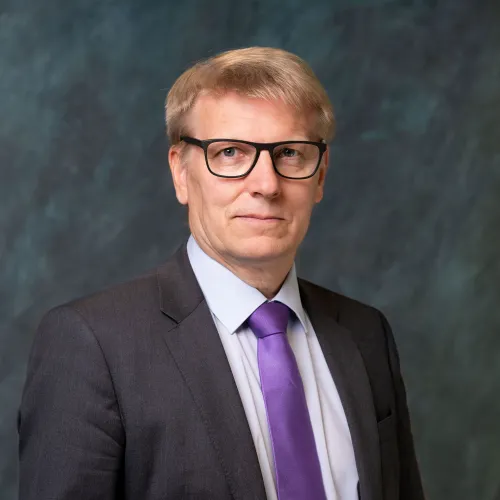 Kimmo Tiilikainen
Kimmo Tiilikainen has been working as Director General at Geological Survey of Finland since beginning of June 2021. Previously he was involved in politics: he acted as a Member of Parliament for 16 years, held several ministerial positions, and for the last couple of years he was State Secretary on several ministries.

Combining environment and economy is one of his guidelines both in work and private life, key elements being sustainability and circular economy. Kimmo Tiilikainen has worked towards these goals internationally. He was one of the EU's Ministerial Negotiators of the Paris Agreement, and signed it on behalf of Finland in 2016. He was one of the facilitators in adaptation to climate change negotiations when Paris Rule Book was finalized in Katowice. As a Minister of Energy of Finland, he implemented Finnish climate policy by promoting both renewable energy as well as coal ban.
right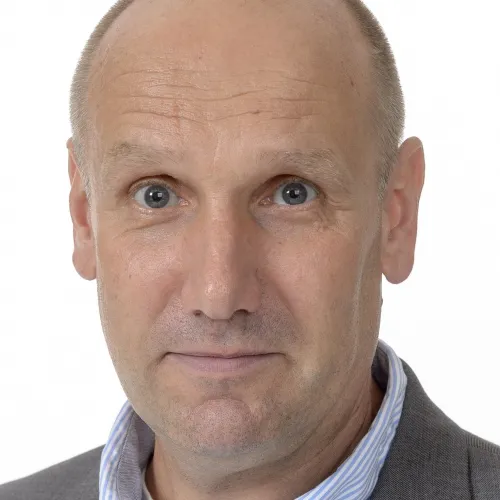 Prof. Dr. Frank Lipnizki
Frank Lipnizki is Professor in Chemical Engineering in the Department of Chemical Engineering at Lund University, Sweden since 2017. He heads the Membrane Group at Lund University and manages MemLab – the Industrial membrane process research and development centre – at Lund University. Before, he joined Lund University he was working for 16 years at Alfa Laval - Business Centre Membranes in Denmark. His group is the largest membrane group in Sweden, and its research focus is on the water, energy and food security nexus combined with United Nation's Sustainable Development Goals.
Thus, his main research focuses on the integration and optimisation of separation process in particular membrane processes in the food, biotech, pulp and paper industry as well as water and wastewater treatment plus fouling and cleaning of membranes.

SCI-MAT Seminar discusses sustainable circularity of industrial inorganic side streams from the perspectives of valuable metals recovery and utilization of bulk material. The aim is to find solutions toward utilizing all side streams to their maximum value potential. The aim will be approached through collaboration across disciplines and industries.
 
 
 

9:00

9:45

 

 

 

Registration and morning coffee 

Opening speech, LUT SCI-MAT research platform

Jarkko Levänen, Assistant Professor of Sustainabily Science,  

Team Leader of SCI-MAT platform, LUT University 

10:00-12:00
 
Session 1: Recovery of valuable metals from industrial side streams  Rare-earth elements (REEs) as business opportunity:  

Rare-earth elements (REEs) as business opportunity? 

Erika Rova, Yara Europe
The recovery and purification of REEs from secondary source, Santeri Kurkinen, LUT University

Supply risks and development of the critical metals market

, Jarkko Vesa, 

Ministry of Economic Affairs and Employment

Chair Katja Lahikainen, Director of CST, LUT University

Discussion 

12:00-12:30
 
Break
12:30-14:00
 
Session 2: Treatment and valorization of industrial side streams 

Introduction 

Sami Virolainen, Director of SCI-MAT platform, Head of Department of Separation Science, LUT University 

Panel discussion

Matti Lampinen, Development Manager, LUT University

Annica Lindfors, Business Development Director, Circular Economy, Nordkalk

Saija Luukkanen, Professor of minerals processing, Head of Oulu Mining School, University of Oulu 

Mikko Räisänen, Senior Researcher, Innovations, Betolar

TBD, Metso Group

Q & A 

 

 
Lunch & networking 
The NOFS19 excursion will take us to Ihalainen industry area where the Nordkalk's biggest Finnish production site is located in Lappeenranta. There is a quarry, a grinding plant, two flotation plants and a sales office. Also the subsidiary Suomen Karbonaatti Oy (Nordkalk's interest 51%) operates in the same industrial area. Lappeenranta quarry is the only one in Europe where a rare mineral called wollastonite is quarried.
Main products: limestone, limestone powder, wollastonite
Main applications: paper industry
Personnel: approx. 140 (incl. Suomen Karbonaatti Oy)
Operations in Lappeenranta started in 1910.