Citizen Shield had the final seminar at Innopoli 1, Espoo, on 9.10.2023 at 9:15-12:00. Citizen Shield is a project that combines technology, design and human behavior in face mask research. Project is led by VTT and TAU.
BioProt has been following the project and has participated some of the bootcamps organized by the project.
Get to know the Citizen Shield project, visit www.citizenshield.fi.
left
Agenda
The event was held in Finnish. Agenda of the day was following:
9.15-9.35 Why to combine human behavior, technology and design?, Ali Harlin, VTT and Nelli Hankonen, TAU
9.35-10.05 Why citizens protect themselves?, Matti Heino, TAU
10.05-10.30 Masks and ventilation in protection, Aku Karvinen, VTT
10.30-11.15 Knowledge cafe, introduction of results by posters and outputs:
Development of new type of filtration material and its properties, Jukka Ketoja, VTT
How to combine design to material development, Niina Hyry, VTT
Contamination in porous materials, Titta Kiiskinen, VTT, Jussi Virkajärvi, VTT
Antimicrobial results for ALD-treated nonwovens, Laura Keskiväli, VTT
Experiences of young adults and their understanding of face masks use, Kaisa Saurio, TAU
Tidbits from behavioral data training aimed at public administration, Matti Heino, TAU, Sarmite Puukko, TAU
11.15-11.35 Use of behavioural data in public admistration: Human centricity in a complex society for public administration training, Nelli Hankonen, TAU
11.35-12.00 "So what?" Our recommendations for action to improve crisis prepardness and preparing, Ali Harlin, VTT.
right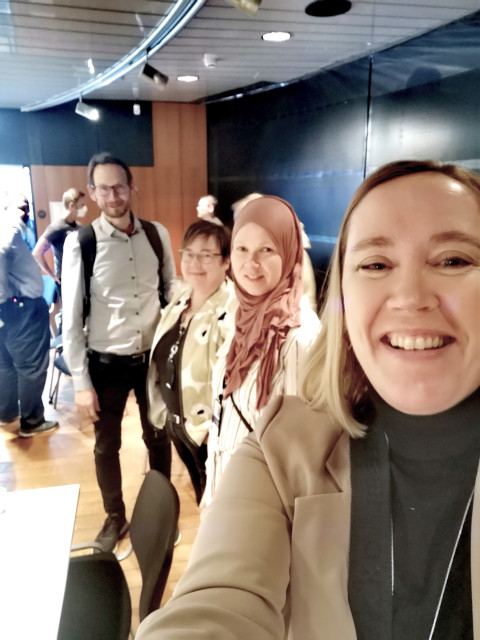 left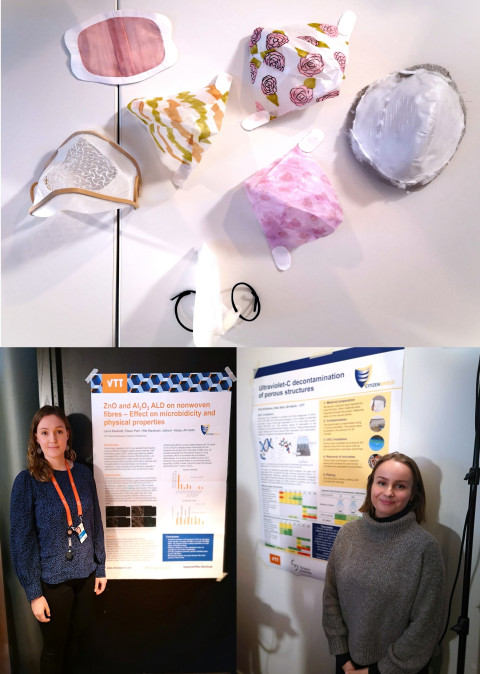 right
Interesting topics and prototypes
Ali Harlin, VTT, and Nelli Hankonen, TAU, gave a brief and interesting introduction to the project. Citizen Shield is a multidisciplinary project, combining technology (materials, simulations), design of the face masks and human behavior. Some of the topics are closely related to the topics addressed in BioProt.
In the Knowledge cafe, we had an opportunity to go through the results and prototypes of the masks obtained in the Citizen Shield project. Lots of mask designs and prototypes were developed, introducing very light and face-fitting options. For example, Jukka Ketoja et al. (5th International Cellulose Conference, Japan, 2023) have been published a paper "Biodegradable filtration material by foam forming and electrospinning", where substrate has been foam-formed from regenerated cellulose on surface of which the filtration layer has been achieved by electrospinning of polyethylene oxide (PEO). This biodegradable face masks structure gave a filtration efficiency of 99.5%. Indeed, very interesting results when thinking of material development in terms of biodegradability.
The time scheduled was just enough to discuss with two researchers. One was the "Antimicrobial results for ALD-treated nonwovens" presented by Laura Keskiväli, VTT and the other one was "Contamination in porous materials" presented by Titta Kiiskinen, VTT. Titta Kiiskinen has been finishing her Master of Thesis work at Oulu University (2023) dealing with the effectiveness of ultraviolet- C light (UVC) as a decontamination processes for porous nonwovens, such as cellulose -based materials. Overall, the Knowledge Cafe was very informative and interesting. However, it could have lasted longer.
Lots of other publications have been written during the Citizen Shield, as shown in the main image. More information on the Citizen Shield project can be found in www.citizenshield.fi.