Workshop organized by Natural Resources Institute Finland, Luke, and LUT was held this time on 16.-17.5.2023 at Viikki, Helsinki, and Bioruukki, Espoo. In the first day of the Workshop, we had possibility to see the laboratories of Luke and, at the same time, learn about their research activities at Viikki. In the afternoon, we listened to the interesting presentations with the topics (1) Cascade process of raw material and results from extraction experiments (Petri Kilpeläinen, Luke), (2) Chemical characterization (Jaana Liimatainen, Luke), (3) Status of the surface treatment experiments and preliminary results (Susan Kunnas, Luke) and (4) Scenario of Luke for creating added value in Finnish forest bioeconomy (Tuula Jyske, Luke). In the end of the day, different research-related questions were provided and discussed together. In the second day, we visited Bioruukki, Espoo/Kivenlahti, saw the pilot halls and heard about the research activities at Luke and VTT.
BioProt is a two-year project started at the beginning of 2022 and has been funded by Business Finland, including six research institutes (LUT, LAB, VTT, JYU, Luke, HU), four companies with own projects (Lifa Air, Teknikum, Premix, Teknos) and five In-kind companies (HUS, Mehiläinen, Berner, Optitune, Lindström Group).
left
Luke has a vision of a sustainable future and well-being from natural resources by creating value and solutions for customers. Luke operates around Finland in 22 locations, employing 1337 workers and having turnover of 133 M€. Growth of trees, wood properties, biomass, side streams, agro fibres and plants, their constituents (hemicellulose, cellulose, lignin, extractives) and activities (antioxidants, antimicrobials, phenolics) have been studied at Luke.
Research at Viikki
The two-day Workshop started on 16.5.2023 at Viikki. At first, Jaana Liimatainen (Luke), Kalle Kaipanen (Luke), Petri Kilpeläinen (Luke) and Susan Kunnas (Luke) gave us a tour around the laboratories of Luke, introducing the laboratory equipment and telling about the on-going research work among glues, foams, extractions and coating of textiles with the extracts from different plants, such as marsh Labrador tea and arctic Finnish Angelica.
Extractions and characterization of biomass and new products
In the afternoon, four presentations were given to tell more-detailed the research work made in BioProt. Petri Kilpeläinen (Luke) introduced the two extraction methods used at Luke, (1) the supercritical extraction using carbon dioxide and (2) the another method using hot water as an extraction solvent. These methods can be found both in laboratory and pilot scale in Bioruukki at Luke. One of the question discussed was "What properties of the extracted compounds are important than antibacterial and antiviral?". Jaana Liimatainen (Luke) gave a presentation of different tannins and the chemical structures, asking "Is there another interesting compounds than tannins in spruce bark to be utilized?". Susan Kunnas (Luke) gave a presentation about the surface treatments of nonwovens using bark extracts and showed some results. She was asking "Is it possible to affect the pore size distribution during production or is there a known pore size for optimal air permeability?". Tuula Jyske (Luke) gave a presentation on the current situation of the Finnish export and asked, could we, for example, utilize more the wood-based cellulose to increase the added value in Finland?
right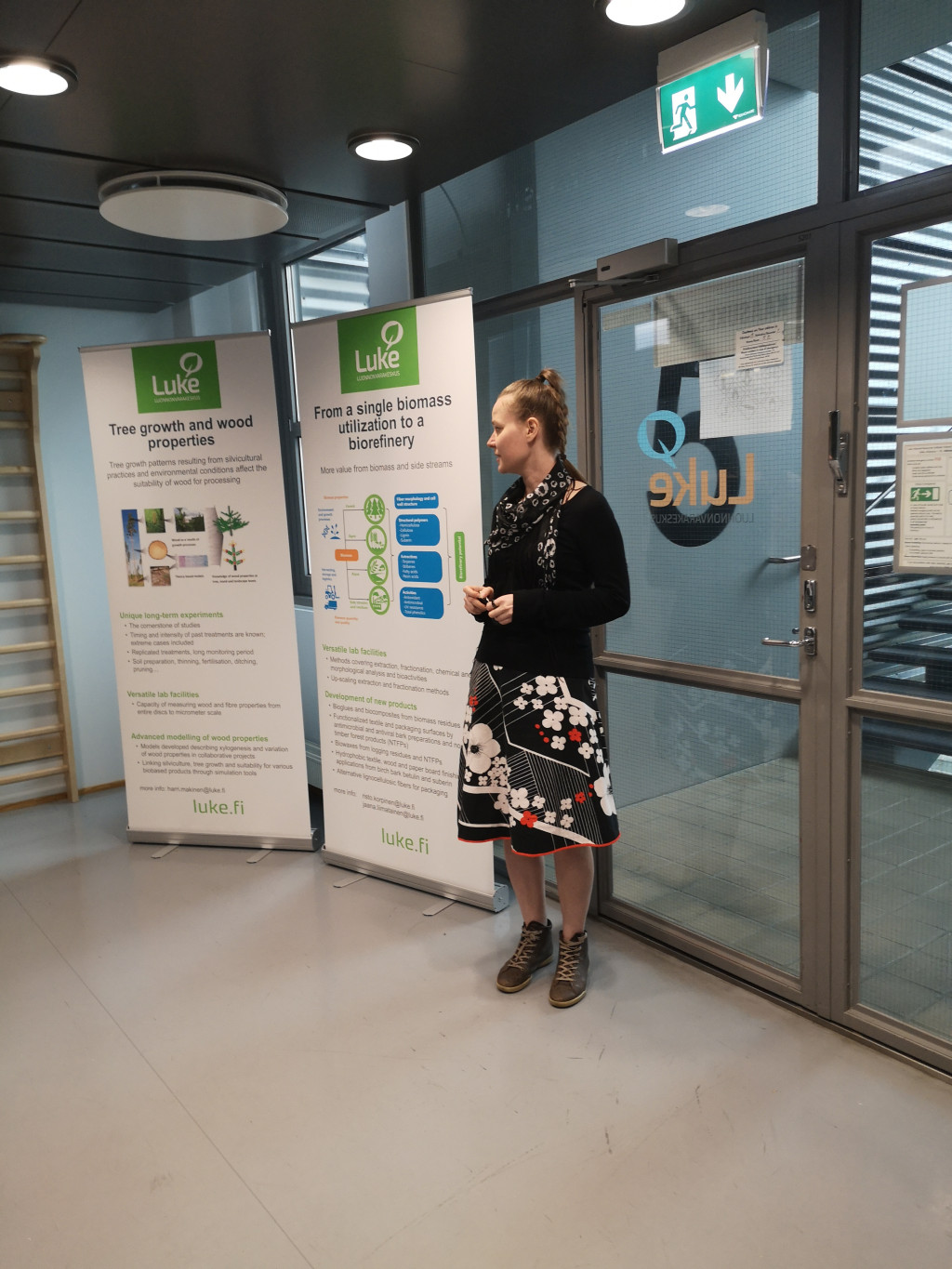 left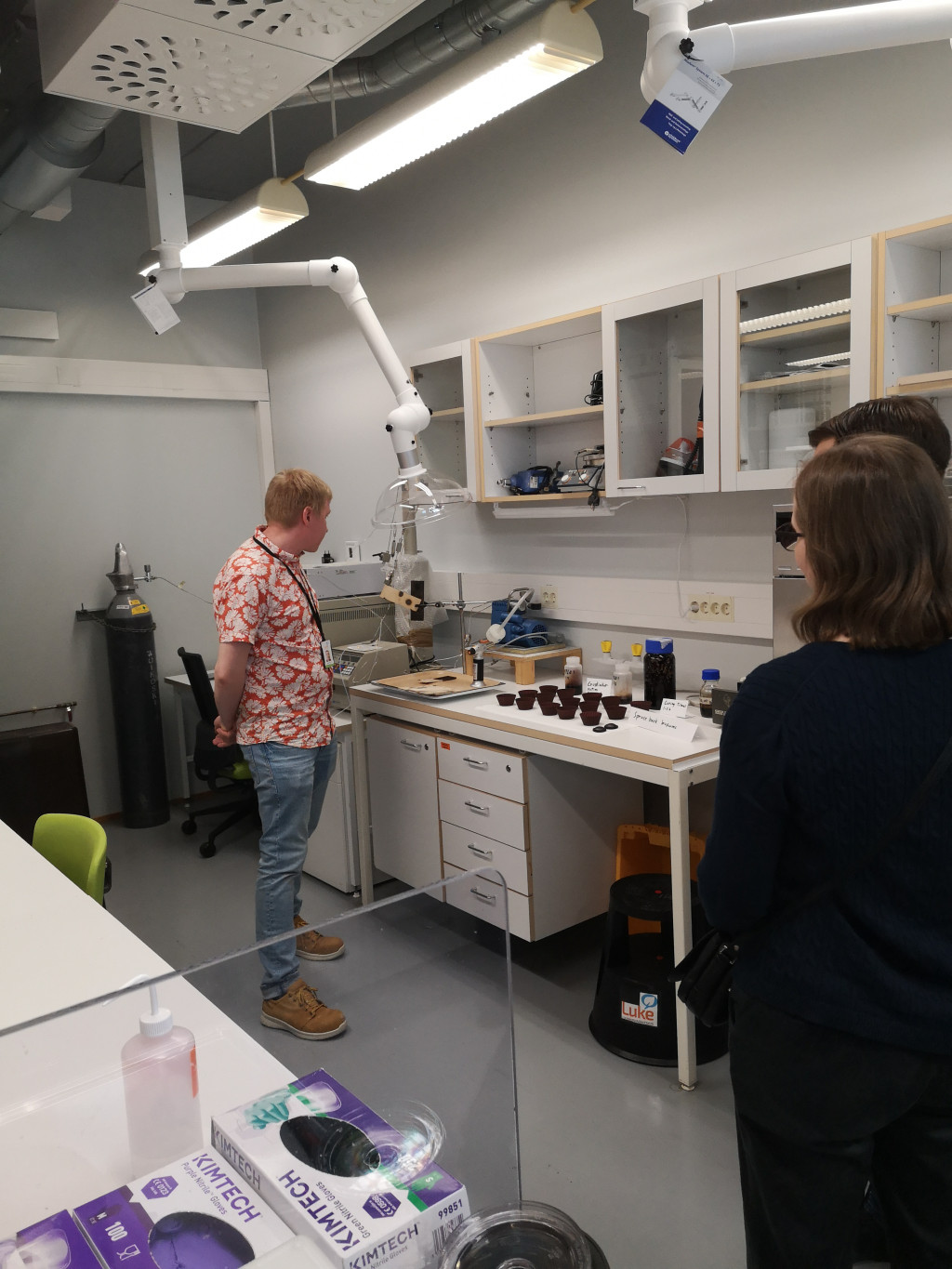 right
Activities in Bioruukki
In the morning on 17.5.2023, we had a tour in Bioruukki, Espoo/Kivenlahti. First, Petri Kilpeläinen (Luke) and Kalle Kaipanen (Luke) introduced us the setup build for the (1) overcritical carbon dioxide and (2) hot water extractions. For example, one extraction takes totally about 2-3 hours and the volume of the tank for the raw material in hot-water system is 300 liters.
Lauri Hauru (VTT) gave us a presentation on chemical recycling of textiles and told us the cellulose-dissolving Biocelsol method. Thereafter, he and Panu Lahtinen (VTT) gave us a tour in pilot hall to see the wet-spinning set up systems. We had also a change to see the cellulose-film equipment.
Afterwords, we had pizza for lunch in the shopping mall "Lippulaiva" and discussed about the interesting program of the day and about research in general.
Thank you very much for the organizers, lecturers and participants for the new information-providing and interesting Workshop. Hopefully, it inspired many of us and gave new ideas for the future research. After all, we had a wonderful opportunity to discuss BioProt-related questions and see each others once more face-to-face.