On this page

left
We are excited to present to you our electric superbike: JHC Ukkonen. Our superbike project began in the autumn of 2019. The idea came from Motorclub Imatra, and it is meant to be an annual project for LUT University and LAB University of Applied Sciences students who are interested in improving the previous year's model.
Photo: Eero Scherman
right
Electric Superbike
◼ TOP SPEED: 250+ km/h
◼ ACCELERATION 0-100: UNDER 3.0 s
◼ POWER: 200 kW
◼ CAPACITY: 12.0 kWh
left
JHC Ukkonen's goal is to achieve the best possible performance in the lightest possible package. It uses a ready-made engine and engine controller, but the body as a whole and the battery are designed by students at LUT. The bike is designed with optimal performance in mind.
The bike's design and all of its parts have been modeled virtually. The durability and strength of the structure, the shapes of the motorcycle and the use of the material have been optimized with computer-aided FEM calculation.
The bike does not have a gearbox, but it has a very precisely adjustable accelerograph. The bike accelerates from zero to a hundred kilometers per hour in only a couple of seconds, and it is powered by eight aluminum-encapsulated battery modules. The battery life is rated to last for about five laps. The weight of the bike will be about 190 kilograms – around the same as a normal superbike.
The idea of the bike is to serve as a prototype, accelerating the development of the transport industry and the dissemination of knowledge.
JHC Ukkonen offers thesis opportunities as well as topics and content for courses and research. The bike is constantly being developed further, so it will provide meaningful work for plenty of students for years to come.
The main purpose of JHC Ukkonen is to offer students a practical annual project alongside their theoretical courses. Continuity is also an important goal for us: we want to make Ukkonen better each year, competing with other universities in the development of the fastest superbike. The superbike is most obviously connected to technology studies, but students from other fields are also needed to build it. So far, over 30 people have been involved in building Ukkonen.
right
The 2023 version
MOTOR
Emrax 268 axial flux motor

MOTOR SPECS
200 kW - 500 Nm
One gear to reverse motor rotation

BATTERY
12 kWh
816 pcs of li-ion 21700 cells
Designed and built by JHC
Kempower Chademo charger
Emus BMS

CHASSIS & FRAME
CNC milled, aluminum
Designed by JHC, built by LUT Voima
Yamaha R1 swingarm

ELECTRICS
AiM MXL2 dash logger
AiM PDM32 power distribution module
Cascadia Motion CM200DX controller
Gripone IMU CAN

SUSPENSION
Öhlins FGRT219 & YA468

BRAKES
Brembo M4

WHEELS
BST Black Mamba carbon fiber
left
The 2022 version
ELECTRIC MOTOR
Type: Axial flux
Supplier: Emrax
Specifications: 200 kW

BATTERY PACK
Type: Li-Ion Samsung 18650
Specifications: 13.0 kWh
Amount of cells: 1440

MOTOR CONTROLLER
Type: BorgWagner Gen5-S9
Supplier: VoltSport
Specifications: 450 V, 180 Kw

BATTERY MANAGEMENT SYSTEM
Type: Orion 2 BMS
Supplier: Areny Energie Alternativa
Components / Chassis

FRAME
Type: Custom aluminum
Supplier: LUT University

SWINGARM
Type: Custom aluminum
Supplier: LUT University

FRONT SUSPENSION
Type: Ohlins FGRT219
Supplier: MP-Racing Oy

REAR SUSPENSION
Type: Ohlins YA468
Supplier: MP-Racing Oy

BODYWORK
Type: Custom

BRAKES
Type: Brembo M4
Supplier: APE Motors
Specifications: 4-piston, 108 mm

WHEELS & TIRES
Type: Diablo Superbike
Supplier: Pirelli

right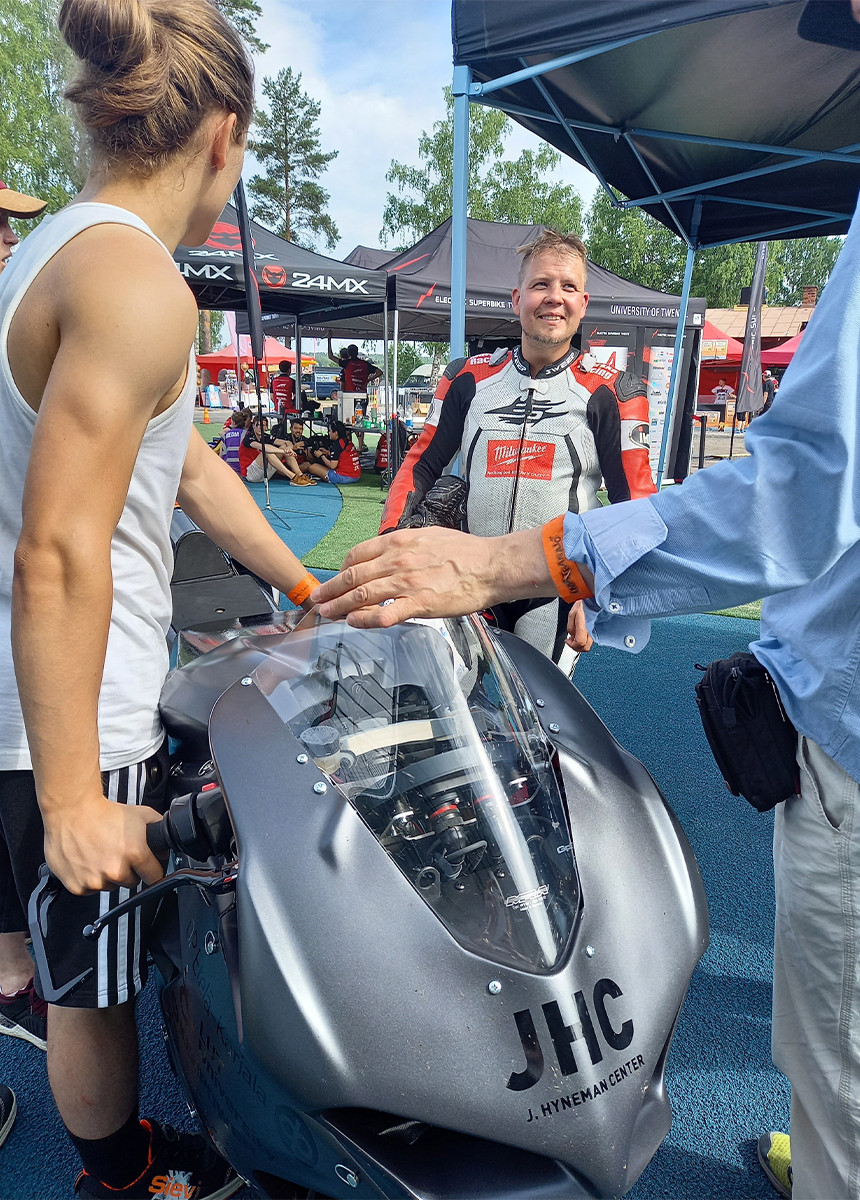 left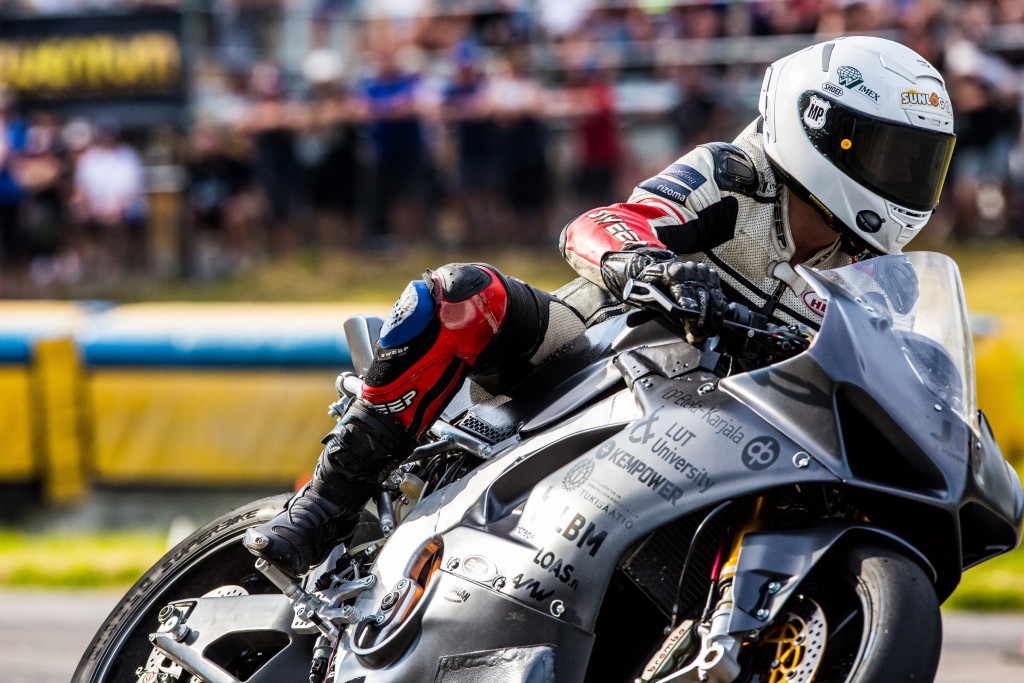 right
Former professional motorcycle racer Pauli Pekkanen tested JHC Ukkonen in the summer of 2022 at the Lappeenranta airport. Pekkanen competed against an electric motorcycle by the University of Twente from the Netherlands.
Pekkanen says that an electric motorcycle doesn't handle much differently than a combustion engine motorcycle.
"The controls are the same on both bikes, but the electric motorcycle is silent and has no gears. In a way, the lack of sound feels confusing, because I'm used to changing gears based on the sounds made by the bike," he says.
Photo: Eero Scherman
left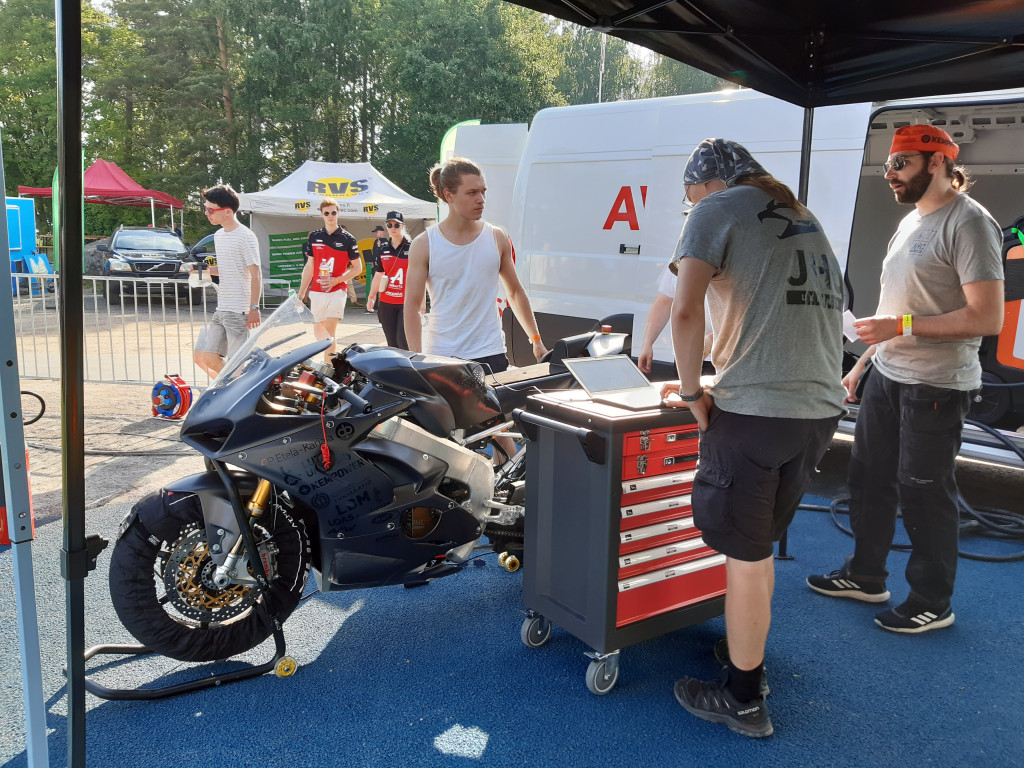 right
JHC's team of experts attended Ukkonen's test runs in 2022. The team included JHC assistants and permanent staff.
Testing is one of the most important aspects of the project, as it shows how design and theory hold up in real life. It also helps detect obvious errors and bugs, which is very important for safety.
left
Jamie Hyneman has helped the team select technical solutions, such as materials and components. He has validated the team's own choices by drawing on his experience and extensive network of contacts. For example, calculations for the controller and motor have been verified by friends of Hyneman's who work for a US motorcycle manufacturer.
right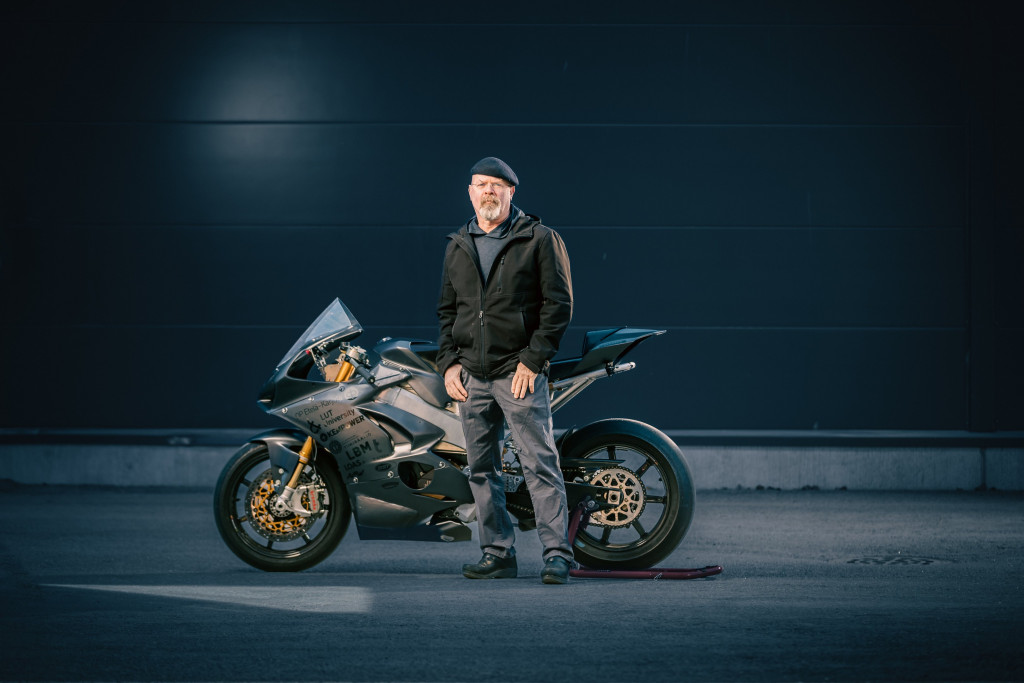 left
Hyneman would like the LUT protolab and its equipment to give students the feeling that anything is possible. Their experience should be: "I had the idea, and then I had the thing. Wow!"
"Commercial knowledge is essential here. It's excellent that JHC operates as part of the LUT Business School," Hyneman says.
"An idea is kind of pointless if it remains unused. You need to know how to market the idea to people."
Hyneman visited LUT in April 2023 and attended JHC Spring Seminar.
right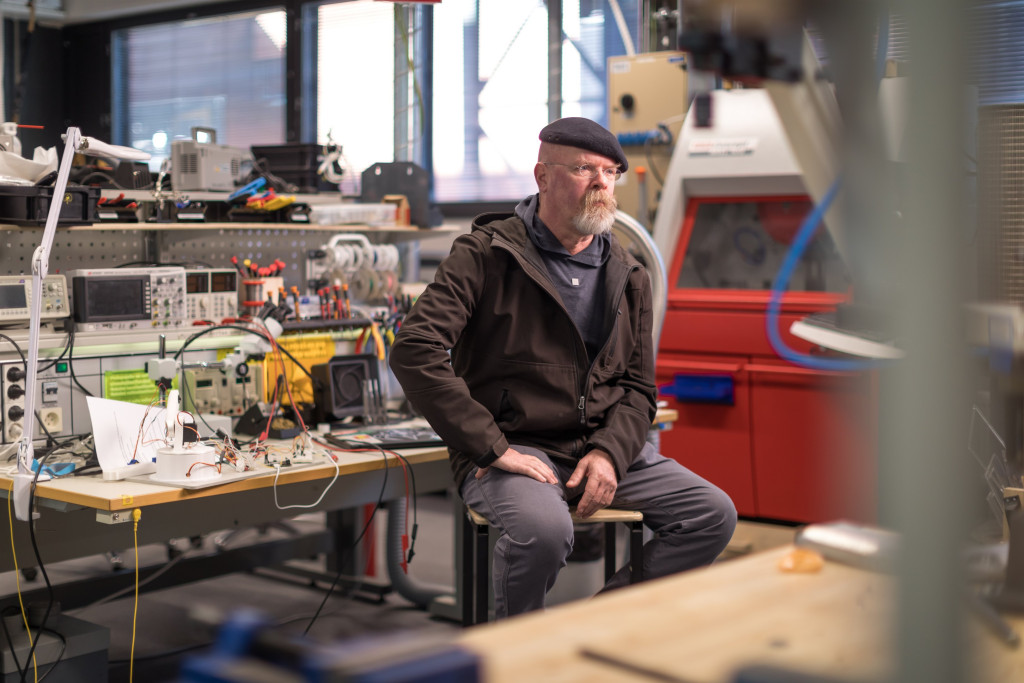 left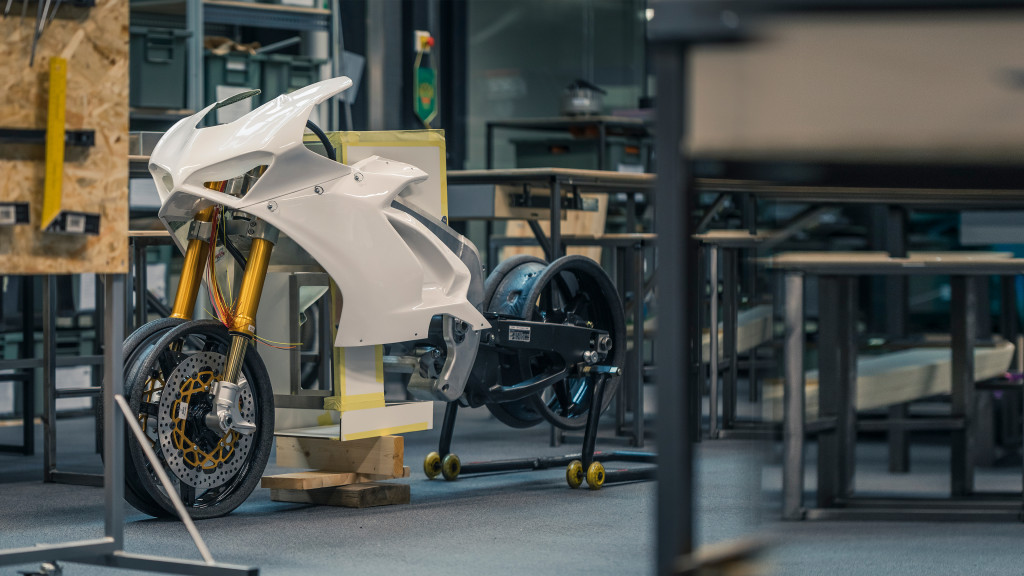 right
The construction of the electric motorcycle began in the year 2020. Students designed the bike's body and started building it from aluminum.
The bike has been assembled and taken apart several times. This picture of the motorcycle's frame was taken in 2020.
left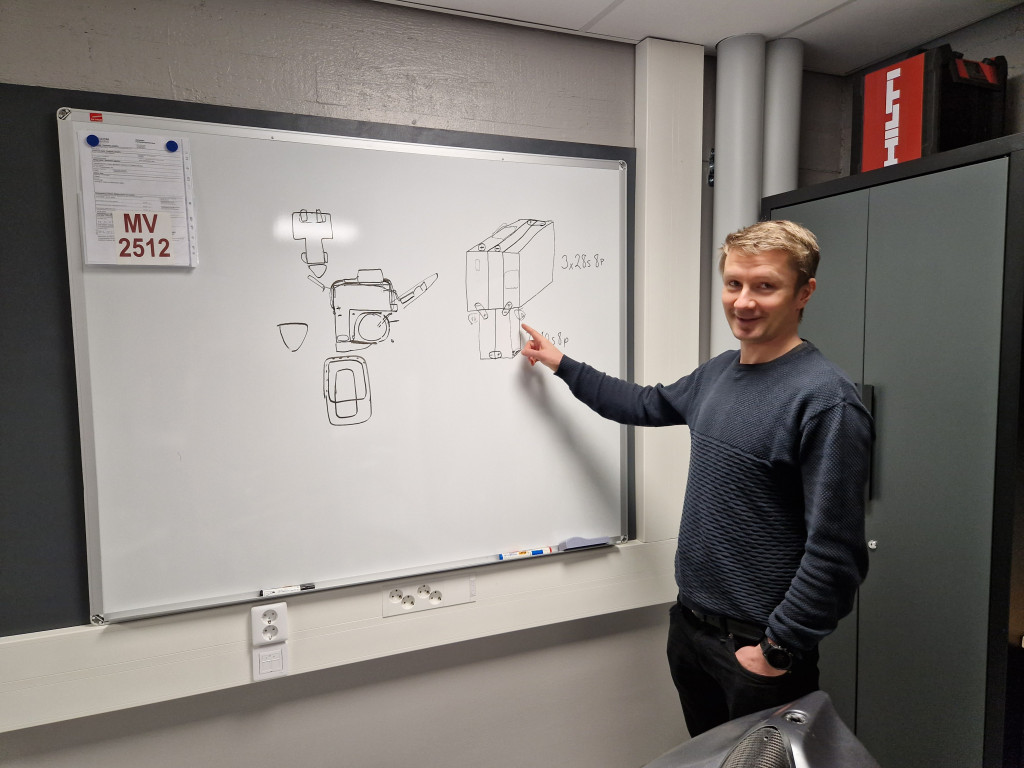 right
Marko Kasurinen, head of development, is developing JHC Ukkonen. An outline of the motorcycle's battery is displayed on the whiteboard.
"The goal was not simply to increase power, but rather to match the speed of combustion engines by leveraging advanced technology and engineering across all areas. Every part of the bike, including the electrical system, has to be optimized for maximum performance," Kasurinen says.
"One of the key advantages of electric motors is their ability to deliver maximum torque instantly, resulting in quick and powerful acceleration. Furthermore, the bike was designed using lightweight materials, which enhances its agility and maneuverability on the track. Thanks to recent advances in battery technology, the bike should now deliver slightly more power and faster charging times."
left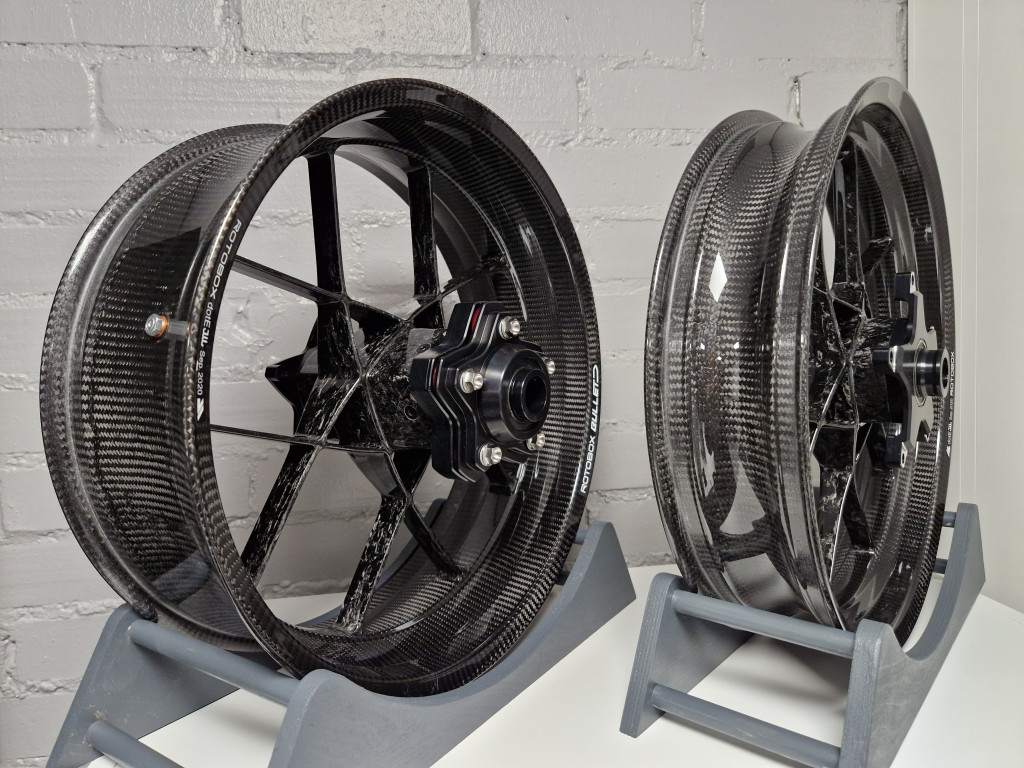 right
The new rims for the 2023 model of JHC Ukkonen. The rims are made of carbon fiber. This reduces their mass and thus the gyroscopic force, which in turn makes the bike more agile to ride and faster to accelerate.

left
We are building a relatively simple telepresence robot, Hynebot, that can act as a substitute or a kind of an avatar for a physically distant teacher in a prototype laboratory. This device is built as a student project by using common and inexpensive components. Come and follow our project!
right
Telepresence robot
◼ CONSTRUCTION YEAR: 2021
◼ PRICE: < €10 000
◼ RUN TIME (H): PLANNED >2 h
◼ MAX SPEED (M/S): 1.09
left
Hynebot is a camera eye and robot arm connected to a microphone, loudspeaker and moveable platform, all controlled remotely. It doesn't function like some programmed robots that would require at least some artificial intelligence. It's a tool that wakes up to work only when someone remotely connects to it and starts using it.
Visiting teachers can all use the same robot, and thus, the knowledge of the robot depends a great deal on the skills of the person using it. Students can also use the robot to ask questions from the user at the other end.
The robotic system includes several components: a camera, a main processor for video processing and wireless communication, speakers for remote user audio, an embedded auxiliary processor (traction motor control), a manipulator arm, batteries, and required peripherals such as indicator lights.
right
Power and electronics
MAIN MOTORS
Type: 3x53 W BLDC
Standard 110 mm scooter wheels

BATTERY
Type: E-Bike battery
Specifications: 25.4 V – 24.5 Ah
Docking capability

MAIN CONTROLLER
Intel NUC 10th gen
ROS2 – Robot Operating System middleware

BATTERY MANAGEMENT SYSTEM
Type: Orion 2 BMS
Supplier: Areny Energie Alternativa
left
Build
FRAME
Material: Nordic birch plywood (and thermoformable plywood)
Supplier:
Thicknesses: 24, 15 and 6.5 mm
Flat pack capable (at least planned)
Footprint: 61x56 cm

DIMENSIONS
Weight: 44 kg
Height: 137 cm

CAMERA
Type: Intel D435i RGB-D

SCREEN
Inches: 10.1"
Size: 1920x1200
Touch support

AUDIO
Mono, 25W

SENSORS
Ultrasonic,
RGB-D,
IMU

WHEELS
Type: 3x Modified swerve drive,
Omnidirectional

ARM/CRABBER
Type: Dorna 2, 6(+) DoF
Arm carry capacity: 1.5 kg
right
The main operating environment of the robot will be a prototype workshop, so the area will be about 330 m2, consisting mainly of a large open space with worktables and manufacturing equipment and of smaller closed-off workshops. The operating environment affects the requirements for the device, and it needs to be able to move outside its main operating environment as well, although it will need to maintain an internet connection in order to be remote-controlled.
Another telepresence robot was built at the same time at M5 Industries, San Francisco, allowing LUT students to exchange experiences and thoughts with the M5 Industries group and to learn what it's like to control a robot on another continent.
Future practical experiences with our telepresence robot in the prototype laboratory will help us to develop both technology and practice further.
left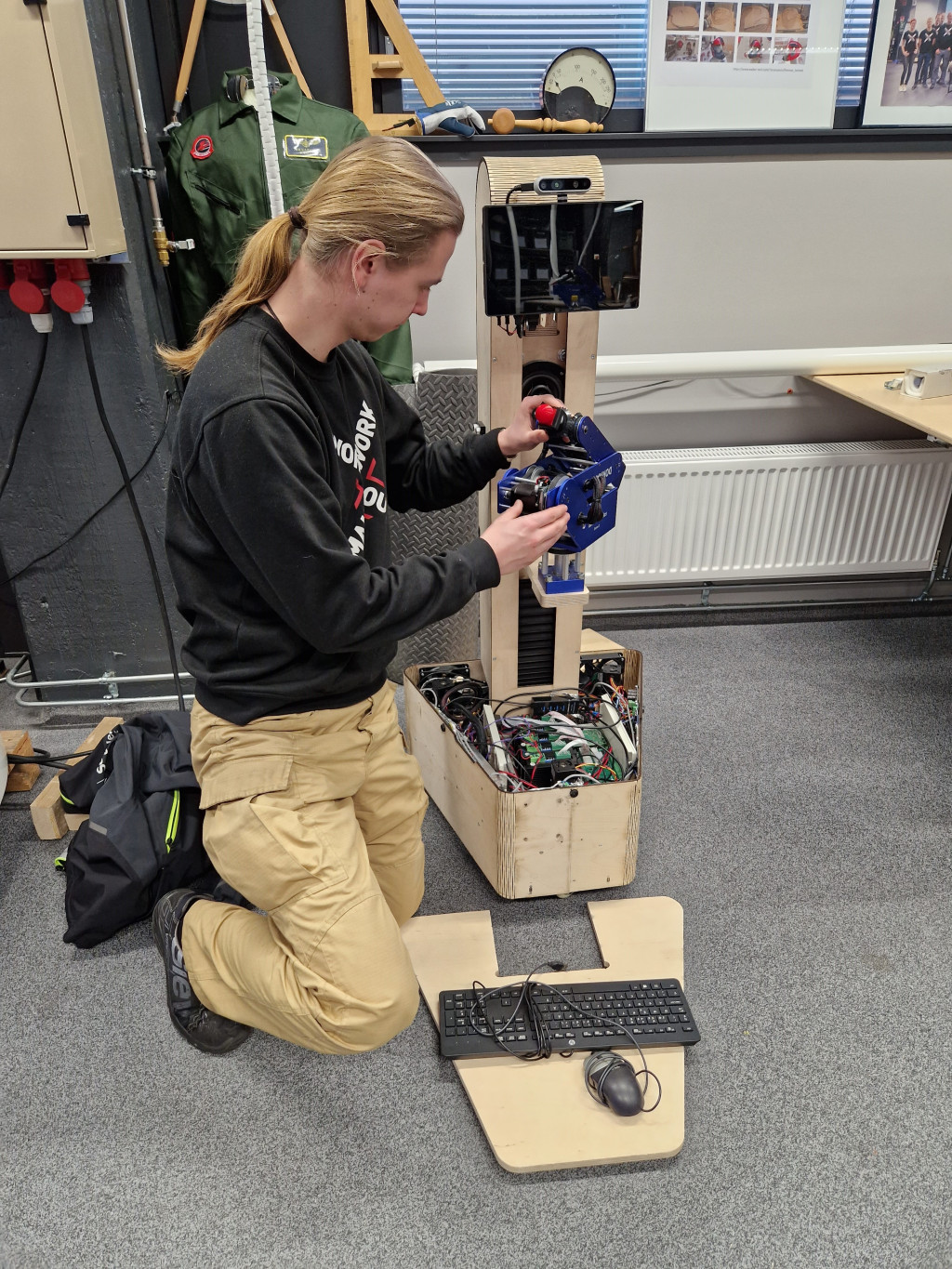 right
To use professional lingo, JHC assistant Robert Hämäläinen is mainly developing Hynebot's back-end. In plain language, Hämäläinen is developing systems that come between the user interface and the electronics.
"In other words, I'll probably develop code for some of Hynebot's electronics, and I'll most likely put the finishing touches on Hynebot's website. My colleague Jake Cumens is in charge of integrating Hynebot's arm with the back-end system," Hämäläinen says.
Hämäläinen and Cumens are the third consecutive team to work on Hynebot. Perttu Juvonen designed the robot's structure and electronics as a part of his final thesis, and Aditya Hosamani and Swapnil Baad prepared Hynebot's previous website.
left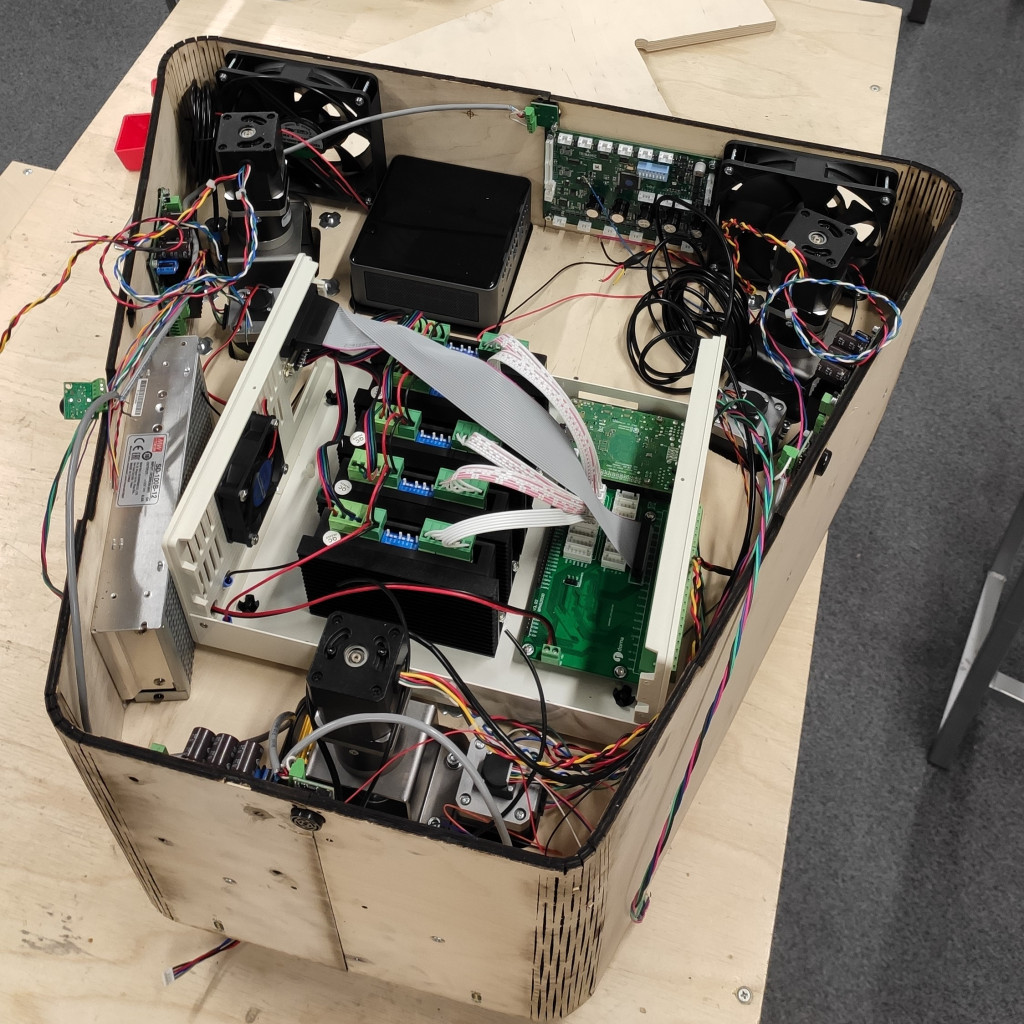 right
The inside of the Hynebot avatar. Hynebot uses standard components, so replacement parts such as motors and their controllers, power supplies and fans are easy to source and inexpensive to purchase.
Read more about the projects