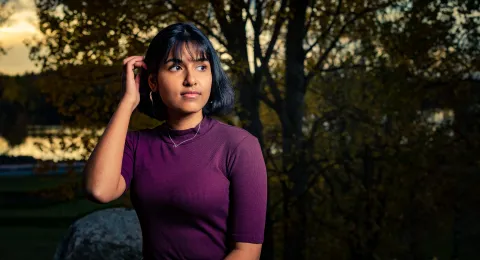 Master's Programme in International Business and Entrepreneurship
International business and entrepreneurship are extremely challenging fields especially in the current operational environment, but the most resilient companies will be able to survive and thrive.
Degree
Master of Science in Economics and Business Administration
Regular admission
1 December 2023–17 January 2024 at 15:00 (UTC+2)
Early admission
15 October–15 November 2023 at 15:00 (UTC+2)
Tuition fee
EUR 13 500/academic year (non EU/EEA students). Early bird discount and scholarships available. No tuition fees for EU/EEA students.
left
Transformations taking place in the global economy are reshaping the nature of international business and entrepreneurship, presenting both threats and opportunities to new and existing enterprises. The ability to navigate the volatile, uncertain and complex business environment brings a competitive edge both personally and to the firm.
You may want to become a successful entrepreneur by creating your own business or to build a successful career in management in existing companies, but to succeed, you will first need to develop the right mindset and skills.
In this programme, you will develop entrepreneurial competencies for creating a new business and leading its growth to international markets despite the adversities of the so-called new normal. The programme provides you with everything you need to become successful in global business: you will gain the skills to work as a leading professional in internationally operating companies and to launch and operate your own global startup.
Both skill sets together will make you attractive in today's global business environment and provide you with employment options in the long term.
You will also learn to manage the international growth and strategy of a company, to manage finances and resources in international markets, and to lead people in a multinational company.
The programme also engages local entrepreneurs and associations, enabling you to learn from their real-life cases. During your studies, you will have an opportunity to consult and network with companies and to learn first-hand from successful international entrepreneurs and business professionals.
The delivery mode of the programme is blended. That means the programme contains both on-campus courses and courses that can be completed partially or fully online. Students admitted to the programme should be able to attend classes on campus in Lappeenranta when required. Attendance requirements are indicated in the course descriptions.
right
What will you learn in the programme? 
In this programme, you will acquire advanced knowledge and skills in entrepreneurship in an international context. You will develop an entrepreneurial mindset and management and analytical skills for the international market.
As a graduate, you will acquire:
professional skills. You will understand global trade and internationalisation strategies of firms and recognise and seize international opportunities. You will develop a sustainable, analytical, entrepreneurial, and global mindset and be able to understand and assess the opportunities and challenges of global markets. You will be able to consult for entrepreneurs and their firms on internationalisation strategies.
competence to discover, evaluate, and develop international entrepreneurial opportunities; you will also be able to recognise the role of sustainability in international and domestic business.
managerial skills. You will be able to critically and analytically discuss and apply theories on international business and entrepreneurship to present managerial recommendations.
Degree structure and studies
left
The Master's Programme in International Business and Entrepreneurship is a two-year programme. It leads to the degree of Master of Science in Economics and Business Administration, M.Sc. (Econ. & Bus. Admin.), which is 120 ECTS credits.
The programme includes core, advanced specialisation, minor and language studies as well as a Master's thesis. Read more in this academic year's curriculum.
Double degree study opportunity for LUT degree students
The programme also offers a possibility for double degree studies. Students admitted to the Master's Programme in International Business and Entrepreneurship at LUT may apply to the double degree programme organised in cooperation with the following programme's partner university: University of Pavia, Italy.
left
Earning your degree in international business and entrepreneurship offers you many promising career options.
After graduation, you will have the competencies to launch and operate a startup geared for international growth and global success. Your career opportunities will include becoming an international entrepreneur, a manager in an international or multinational enterprise, or a management consultant on internationalisation strategies.
right
You will also be able to manage global business operations in multinational companies and work as a consultant for internationally operating companies on matters relating to their business operations.
You may become an entrepreneur, an export manager in a small or medium-sized enterprise, or a director of international operations in a multinational company.
Subscribe to our newsletter
The LUT newsletter is your guide to what's happening on campus and in the student community, delivered directly to your email each month.