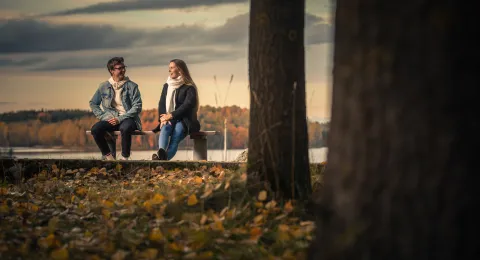 Master's Programme in Electric Transportation Systems
The future of transportation systems is electric – cars, busses, trucks, trains, marine vessels, and ultimately, aircrafts will be powered by electricity. The Master's Programme in Electric Transportation Systems equips you with the knowledge and skills you need to excel in this exciting field.

Degree
Master of Science in Technology
School
LUT School of Energy Systems
Regular admission
1 December 2023–17 January 2024 at 15:00 (UTC+2)
Early admission
15 October–15 November 2023 at 15:00 (UTC+2)
Tuition fee
EUR 13 500/academic year for non EU/EEA students. No tuition fees for EU/EEA students.
left
In this programme, you will gain a deep understanding of electric transportation systems as a whole, including how to apply relevant power electronics and electric drive technology solutions to the development of future zero-emission transportation systems.
You will also learn to compare different energy storage options and choose suitable ones for different applications. You will learn to analyse the role and influence of electric vehicles in the energy system.
You will also become familiar with the power and energy transmission
of electric vehicles – from green energy production to the drivetrain. With the
programme's emphasis on information technologies related to transportation
systems, you will even learn to develop flexible charging systems.
This programme gives an overview of the technology and business in electric transportation systems. It also focuses on key technologies and skills related to electric transportation, such as electro-mechanical drive trains, power electronics, battery technology and related information technology. Also indirect electrification methods and e-fuel technologies are considered, and environmental impacts of different technology solutions are analysed.
You will receive a Master's degree in electrical engineering with a focus on electric transportation systems. With the expertise from this programme, you will be able to work in various expert positions in the electric transportation sector and also beyond it. Due to the emphasis on power electronics and electrical drives, you will also be fully capable to work in these industrial fields.
The Master's Programme in Electrical Transportation Systems suits applicants with a BSc degree in electrical engineering and those already in full-time work because it mainly utilises blended and hybrid teaching. Contact teaching will mainly be arranged on the Lahti campus on individual days at the end of the week.
right
What will you learn in the programme? 
Upon completion of the Master's Programme in Electric Transportation Systems, you will have a profound understanding of electrical transportation systems as a whole and be able to apply appropriate technology solutions in the technological development of future transportation systems.
Additionally, you will be able to describe information technologies related to transportation systems and apply them to, for example, the development of flexible charging systems.
As a graduate from this programme, you will be capable of independent scientific work, searching for information, and analytical problem solving. You will be able to work in teams and organise, carry out and lead projects, and will have the required communication skills for your job.
You will be aware of the ethical aspects of the field and its effects on society and be capable of critically assessing the future prospects of the field. You will be able to apply your knowledge in jobs related to product development, research and marketing as well as the management of these areas.
Degree structure and studies
left
The Master's Programme in Electric Transportation Systems takes two years and leads to the degree of Master of Science in Technology, M.Sc. (Tech.), which is 120 ECTS credits.
The programme includes core, advanced specialisation, minor and elective studies as well as a Master's thesis. Read more in this academic year's curriculum.
left
The high quality of education is one of the most important principles on which we will not compromise. International programme accreditations ensure the continuous development of our education and the international recognition of the degrees of our graduates. LUT University was one of the world's top 300 universities in the autumn 2023 THE World University Rankings, which is one of the most highly regarded university ranking systems.
 
right
The systematic quality assurance procedures that we have developed over a long period guarantee the high quality of our degree programmes and the strong competence of our graduates in the future labour market. The underpinning elements of our education quality are the contents of our degree programmes, which are based on innovations of scientific research and the needs of the working world, and active student–teacher interaction. We evaluate the quality of our education through several follow-up procedures and feedback channels (e.g., course feedback, graduate feedback, alumni feedback, thesis commissioners' feedback).
left
As a graduate of this programme, you will be ready to make your mark in
the world of electric transportation systems and become an expert in a key
field of a sustainable future.
You may find employment in industry, public transport companies, energy companies, or municipal or governmental organisations.
right
Master's graduates from electrical engineering have found employment as project managers, product development managers, development directors, senior design engineers, research and development engineers, product developers or specialists.
Subscribe to our newsletter
The LUT newsletter is your guide to what's happening on campus and in the student community, delivered directly to your email each month.