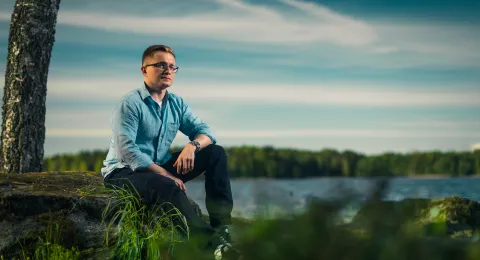 Master's Programme in Chemical Engineering for Energy Transition
Chemical engineering today is facing new challenges and opportunities.
Degree
Master of Science in Technology
School
LUT School of Engineering Sciences
Regular admission
1 December 2023–17 January 2024 at 15:00 (UTC+2)
Early admission
15 October–15 November 2023 at 15:00 (UTC+2)
Tuition fee
EUR 13 500/academic year for non EU/EEA students. No tuition fees for EU/EEA students.
left

right
EUR-ACE® and ASIIN are quality labels for engineering degree programmes at the Bachelor and Master level. The programmes were accredited in 2011 for the first time and the re-accreditation took place in 2017.
left
To mitigate global warming, fossil resources need to be replaced by renewable ones. That is an enormous task, but also a great opportunity for chemical engineers since new processes and products need to be developed.
In this master's programme, you will learn how processes are developed and designed. You will learn about traditional chemical engineering, the modelling of unit operations, separation processes, process simulation, process development, computational fluid dynamics, and product and process design. The studies give you the skills you need to work in any sector of chemical or process industry.
In addition, the studies introduce current topics related to the conversion of renewable energy into chemical products, such as hydrogen production, carbon capture, and the synthesis of fuels and chemicals from renewable power. The focus will be on the energy efficiency of processes and competitive product costs. Moreover, the studies deal with process intensification, where compact, energy-efficient and cost-effective solutions will make the chemical industry competitive also in future.
Teaching in this master's programme is based on existing challenges in chemical engineering. The programme includes lectures, exercises, assignments, and student projects. Novel teaching methods are applied. Several courses apply group design projects. The assignments are often about industrial topics and problems in converting power into chemicals.
The Master's Programme in Chemical Engineering for Energy Transition takes place on campus in Lappeenranta. However, the programme may include some distance learning courses depending on the selections made by the student.
right
What will you learn in the programme? 
After graduation from the Master's Programme in Chemical Engineering for Energy Transition, you will be a competent chemical engineering professional in any sector of the chemical and process industry. You will:
be able to demonstrate strong engineering analysis and problem-solving skills;
be able to make approximations and decisions under uncertainty based on practical engineering skills;
have courage to create innovations and new technical solutions;
be able to develop solutions that take into account issues in environmental protection, especially in the conversion of renewable energy into carbon-neutral fuels and chemicals;
possess project work and communication skills needed in a modern working environment.
Degree structure and studies
left
The Master's Programme in Chemical Engineering for Energy Transition is a two-year programme. It leads to the degree of Master of Science in Technology, M.Sc. (Tech.), which is 120 ECTS credits.
Studies in this programme are a combination of contact teaching on the Lappeenranta campus and online teaching.
The programme includes core, advanced specialisation, and elective studies as well as a Master's thesis.
left
You will acquire practical skills and the latest information on practices and trends in chemical engineering.  
You will be able to find work in many industry sectors, such as the chemical and process industry, fuel production, pulp and paper manufacturing, food processing, energy production, metal and mineral refining, electronics, or the pharmaceutical industry.
right
Typical job include, for example, research and development specialist, design and project engineer or manager, production engineer and manager, environmental and safety engineer, or sales and marketing engineer.
In addition, you will also obtain a firm basis to continue your studies in doctoral programmes.
Subscribe to our newsletter
The LUT newsletter is your guide to what's happening on campus and in the student community, delivered directly to your email each month.