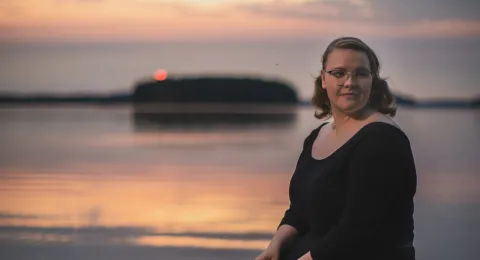 Master's Programme in Materials Science and Technology
Choosing materials is not something only applied scientists or engineers do when they design structures for everyday use. The selection of materials is a key issue in the in-service performance, visual appearance and economic efficiency of any product.
Degree
Master of Science in Technology
School
LUT School of Energy Systems
Regular admission
1 December 2023–17 January 2024 at 15:00 (UTC+2)
Early admission
15 October–15 November 2023 at 15:00 (UTC+2)
Tuition fee
EUR 13 500/academic year for non EU/EEA students. No tuition fees for EU/EEA students.
left
The programme provides you with solid knowledge about materials from the viewpoint of present-day research and practice. You can apply what you learn to other related areas in mechanical engineering, such as sustainable manufacturing technologies and construction engineering.
The studies consist of materials science and its sub-areas, such as advanced metallic materials, ceramics, carbon-based materials, polymers and biopolymers and minerals. The size effect of the materials on structure (macro/micro/nano) is taken into consideration.
Resource- and energy-efficient ways of processing materials are also in focus in different study modules. Special attention is paid to mixed materials manufactured with processes such as composite manufacturing, additive manufacturing and welding.
This Master's programme is a unique in Finland, combining knowledge of and working methods in materials science and production engineering. It emphasises a combination of material knowledge and engineering qualifications through project courses in which you apply your knowledge to practice. Projects are carried out in close cooperation with Finnish and global industries.
right
What will you learn in the programme? 
As a graduate of this programme, you will understand the importance of material selection and the solutions that production technology requires in the multi-disciplinary design process of products. You will understand how to analyse and integrate the aspects of reliability, manufacturability and material selection of structures or machine elements dealing with metallic, composite, nano, hybrid and adaptive materials.
You will:
learn to model metallic and composite materials;
learn to use modelling tools to predict process–microstructure–properties–performance relations of metallic and composite materials in different engineering applications;
understand how material selection influences product design;
be able to define concepts and entities related to high-performance products and use nano and hybrid materials to their best advantage.
understand the basic concepts of the circular economy, materials flow (raw materials, processing, manufacturing until end-of-life recycling and re-usage), and drivers for change.
Degree structure and studies
left
The Master's Programme in Materials Science and Technology is a two-year programme. It leads to the degree of Master of Science in Technology, M.Sc. (Tech.), which is 120 ECTS credits.
The programme includes core, advanced specialisation and elective studies as well as a Master's thesis. Read more in this academic year's curriculum.
left
The high quality of education is one of the most important principles on which we will not compromise. International programme accreditations ensure the continuous development of our education and the international recognition of the degrees of our graduates. LUT University was one of the world's top 300 universities in the autumn 2023 THE World University Rankings, which is one of the most highly regarded university ranking systems.
 
right
The systematic quality assurance procedures that we have developed over a long period guarantee the high quality of our degree programmes and the strong competence of our graduates in the future labour market. The underpinning elements of our education quality are the contents of our degree programmes, which are based on innovations of scientific research and the needs of the working world, and active student–teacher interaction. We evaluate the quality of our education through several follow-up procedures and feedback channels (e.g., course feedback, graduate feedback, alumni feedback, thesis commissioners' feedback).
left
The programme prepares you for different types of positions in both industry and research organisations. As a graduate, you will possess knowledge, skills and competences to model the behaviour of materials, improve the properties of existing materials and develop novel composite, nano or hybrid materials for innovative applications and various technologies.
In addition, you will learn extensively about modern manufacturing technologies for different material types. You will be well prepared to manage environmental and sustainability viewpoints related to material development and selection. You will be also able to continue your studies at the doctoral level.
right
Job prospects include:
material development manager
product manager
material production manager
material quality manager
expert in environmental and sustainability affairs
material standardisation manager
material scientist or researcher
Subscribe to our newsletter
The LUT newsletter is your guide to what's happening on campus and in the student community, delivered directly to your email each month.