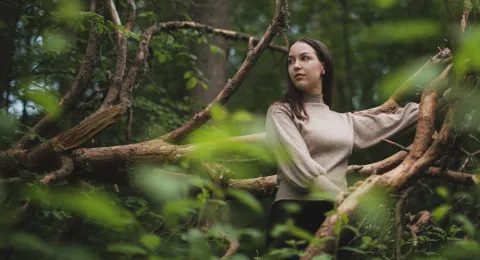 Master's Programme in Circular Economy
The existing economic system is based on the "take, make and dispose" approach, which cannot continue.
Degree
Master of Science in Technology
School
LUT School of Energy Systems
Regular admission
1 December 2023–17 January 2024 at 15:00 (UTC+2)
Tuition fee
EUR 13 500/academic year for non EU/EEA students. No tuition fees for EU/EEA students.
left
A common belief is that increasing economic growth produces enough surplus to deal with arising adverse environmental impacts. The system, however, keeps alive only if sufficient resources are available and the economy has a sustainable foundation.
A circular economy aims to keep products, materials and other resources at their highest utility and value. It is a regenerative system that minimises waste and emissions by slowing down, closing and narrowing material and energy loops. The ultimate aim is to decouple economic growth from the consumption of finite natural resources. Ideally, the system in which resources are endlessly circulated into goods and services is waste-free and organised in a socially fair way.
In this Master's programme, you will learn how to save resources in different situations by, for example, replacing goods with services, creating sharing economy-based solutions and extending product life cycles. You will also learn how to measure environmental and social impacts of different activities. The role of business is central in a circular economy, and you will also learn about the dynamics of sustainable business models.
The programme is well suited for people already in the working world because its face-to-face contact instruction mainly consists of intensive periods.
right
What will you learn in the programme?
Improving resource efficiency is an important step towards a circular economy. Courses of this master's programme explain how the principles of a circular economy can be applied in different contexts and situations.
You will learn how circularity can provide added value to companies, how more efficient material cycles can be designed and implemented and how individuals and communities can be included in the development of solutions.
You will acquire:
professional skills in the circular economy: you will understand the requirements of a system-level change to minimise environmental impacts
competence to apply theories to enable the shift from a linear model to a circular economy
knowledge to introduce new operational models into a society and to innovate new technical and organisational solutions to sustainability challenges
a capacity to understand the complex interdependencies between local and global developments
skills to utilise multidisciplinary approaches at work.
Degree structure and studies
left
The Master's Programme in Circular Economy takes two years. It leads to the degree of Master of Science in Technology, M.Sc. (Tech.), which is 120 ECTS credits.
The programme includes core, advanced specialisation, minor and elective studies as well as a Master's thesis. Read more in this academic year's curriculum.
left
The high quality of education is one of the most important principles on which we will not compromise. International programme accreditations ensure the continuous development of our education and the international recognition of the degrees of our graduates. LUT University was one of the world's top 300 universities in the autumn 2023 THE World University Rankings, which is one of the most highly regarded university ranking systems.
 
right
The systematic quality assurance procedures that we have developed over a long period guarantee the high quality of our degree programmes and the strong competence of our graduates in the future labour market. The underpinning elements of our education quality are the contents of our degree programmes, which are based on innovations of scientific research and the needs of the working world, and active student–teacher interaction. We evaluate the quality of our education through several follow-up procedures and feedback channels (e.g., course feedback, graduate feedback, alumni feedback, thesis commissioners' feedback).
left
The Master's programme prepares you to work as a professional in the circular economy in a wide range of jobs focusing primarily on sustainable business and production.
As a graduate, you may find jobs in industry, consultancy, regulatory agencies, and governmental and non-governmental organisations, where growing interest in sustainability has created new job opportunities.
right
Graduates from this programme are typically employed as environmental specialists in consulting companies, sustainability specialists in product or business development, experts in urban planning, environmental managers or officers in industry or government administration, sustainability or safety specialists in industry, and researchers in research institutes or universities.
You will also have a firm basis to continue your studies in doctoral programmes.
Subscribe to our newsletter
The LUT newsletter is your guide to what's happening on campus and in the student community, delivered directly to your email each month.