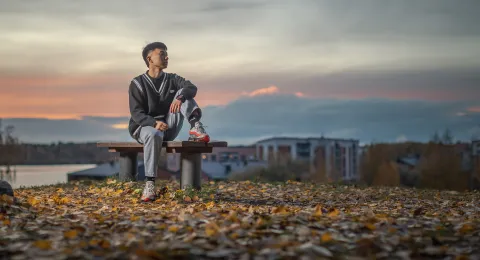 Master's Programme in Industrial Design Engineering
New products are introduced to the market daily and at an increasing pace to meet the growing demands of customers. As a result, the competition between manufacturers is entering a new phase.
Degree
Master of Science in Technology
School
LUT School of Energy Systems
Regular admission
1 December 2023–17 January 2024 at 15:00 (UTC+2)
Early admission
15 October–15 November 2023 at 15:00 (UTC+2)
Tuition fee
EUR 13 500/academic year for non EU/EEA students. No tuition fees for EU/EEA students.
left
Since product design and development are considered transdisciplinary, they require profound knowledge of design methods, manufacturing tools, production processes, ergonomics, aesthetics and sustainability. Skills in these areas help to respond to market demands rapidly and produce justifiable and usable products on a competitive market.
The Master's Programme in Industrial Design Engineering provides students with knowledge of innovative design, manufacturing methods, human factors, creative problem solving, advanced materials, industrial and business challenges, and environmental considerations. This knowledge is needed at different stages of product development to meet the needs of industries, support product users, and respond to environmental issues.
This Master's programme is a unique study opportunity in Finland, combining knowledge of and working methods in production engineering, industrial design and material development. It emphasises a combination of design skills and engineering qualifications through project courses in which students apply their knowledge to practice. Projects are carried out in close cooperation with Finnish and European industries. As a result, this programme is a popular major subject that has seen a rapid growth in applicant numbers nationally and internationally.  
The Master's Programme in Industrial Design Engineering employs massive open online courses (MOOCs), enabling students to complete nearly half of their studies remotely. The online courses and internet-based exercises are a flexible and dynamic way to complete studies.
The course applies a hybrid of online and contact teaching: more than half of the teaching sessions are conducted remotely online. Teachers may provide teaching material to students online. Course presentations, seminar days, meetings and laboratory visits are agreed on flexibly with the lecturer in charge of the course.
left

right
The programme is accredited by international EUR-ACE® and ASIIN standards for high quality degree programmes in engineering. 
right
What will you learn in the programme? 
During the programme, you will acquire diverse knowledge of designing anything from a simple stationary product to a sophisticated one, such as a vehicle, and learn to consider the production processes and manufacturing possibilities.
You will acquire:
competence in areas such as innovative design, manufacturing methods, human factors, creative problem solving, advanced materials, industrial and business challenges, and environmental considerations. You will learn to understand different aspects of design for manufacturing, sustainability and creativity in design as well as the importance of consumer behaviour, development trends and value addition through new industrial techniques;
 
multidisciplinary project work skills to cooperate with experts from other fields, such as engineers, marketers, procurers, and project managers; you will participate in theoretical and methodological courses integrated into projects with regional companies and learn to see problems from multiple perspectives and solve them optimally with innovative  production processes, consumer products, interactions and processes;
 
professional skills to develop and design new products and services effectively on the global industrial scale; you will gain skills in concept visualisation, CAD modelling, product development, and technological and commercial perspectives, and in-depth knowledge of the selection of materials in production, design methods, sustainability and manufacturing aspects;
 
a professional network by learning about practical issues in design, production processes and applied projects in close collaboration with Finnish and other European companies.
Degree structure and studies
left
The Master's Programme in Industrial Design Engineering is a two-year programme. It leads to the degree of Master of Science in Technology, M.Sc. (Tech.), which is 120 ECTS credits.
The programme includes core and advanced specialisation studies as well as a Master's thesis. Read more in this academic year's curriculum.
Most of the lectures and exercises take place online on the Moodle platform. Contact teaching mainly takes place on the Lahti campus, but some seminars and presentations are held on the Lappeenranta campus.
The course includes a few in-class lectures. The laboratories and other facilities of the Department of Mechanical Engineering are located in Lappeenranta, but some facilities are also available in Lahti. This programme is well suited for people with a full-time job.
left
The high quality of education is one of the most important principles on which we will not compromise. International programme accreditations ensure the continuous development of our education and the international recognition of the degrees of our graduates. LUT University was one of the world's top 300 universities in the autumn 2023 THE World University Rankings, which is one of the most highly regarded university ranking systems.
 
right
The systematic quality assurance procedures that we have developed over a long period guarantee the high quality of our degree programmes and the strong competence of our graduates in the future labour market. The underpinning elements of our education quality are the contents of our degree programmes, which are based on innovations of scientific research and the needs of the working world, and active student–teacher interaction. We evaluate the quality of our education through several follow-up procedures and feedback channels (e.g., course feedback, graduate feedback, alumni feedback, thesis commissioners' feedback).
left
The demand for industrial design engineering experts is growing due to new technological developments and their importance in the development of our society.
right
As a graduate of the programme, you will have diverse possibilities for a career in companies' design departments as an industrial designer, brand manager, product designer, production manager, design engineer, interaction designer or packaging designer, in research or even in a design firm of your own.
Subscribe to our newsletter
The LUT newsletter is your guide to what's happening on campus and in the student community, delivered directly to your email each month.