Green Campus Open – GCO
GCO operates across the boundaries of schools and organisations and promotes the utilisation of LUT University's scientific research by society. GCO also administers LUT University's IPR patents and their commercialisation. 
A key part of GCO's activity is organising and developing the Research to Business funding application process in the LUT Group. GCO cooperates with capital investors and experts at Business Finland to enable Research to Business project teams to turn their scientific research results into commercial business activity.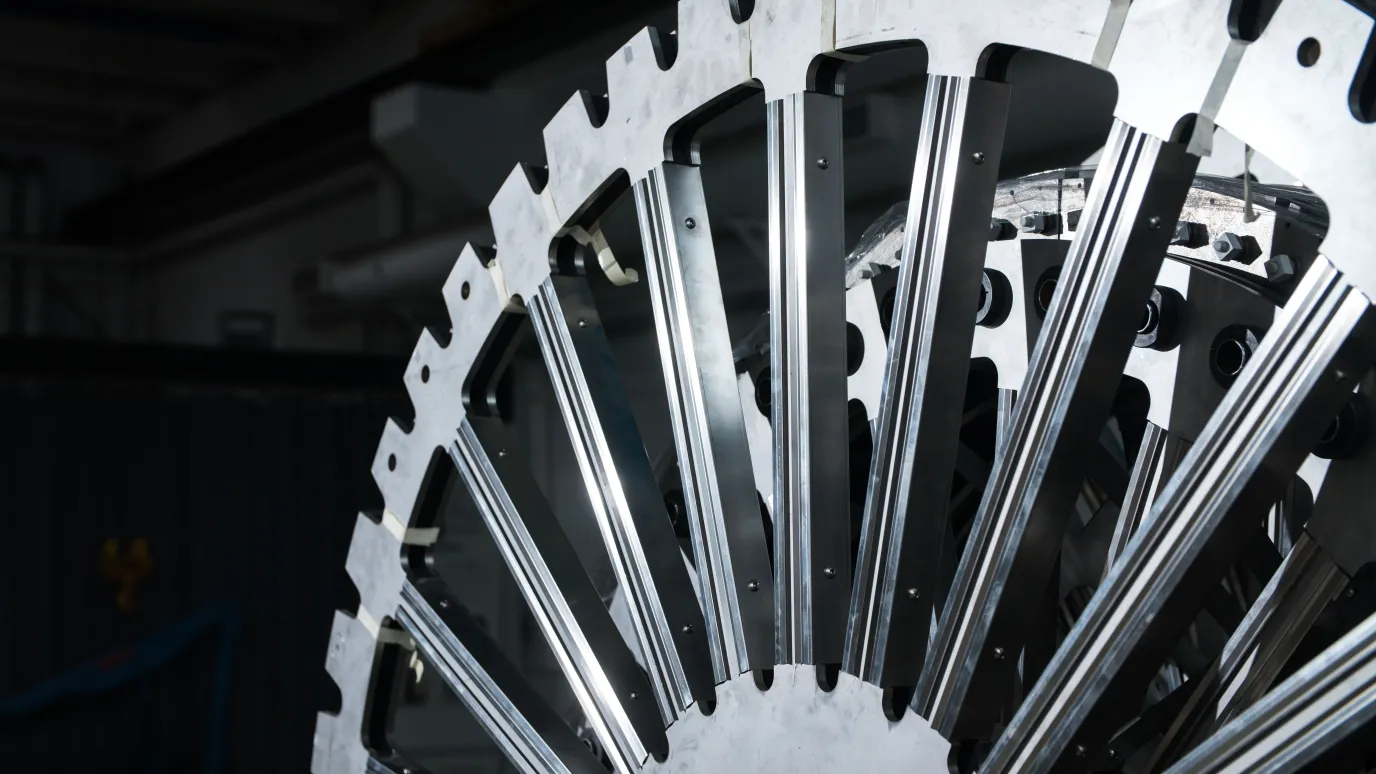 For researchers

GCO coordinates LUT University's applications for Business Finland's Research to Business funding calls and the resulting projects. The GCO team supports research groups in all stages of their projects.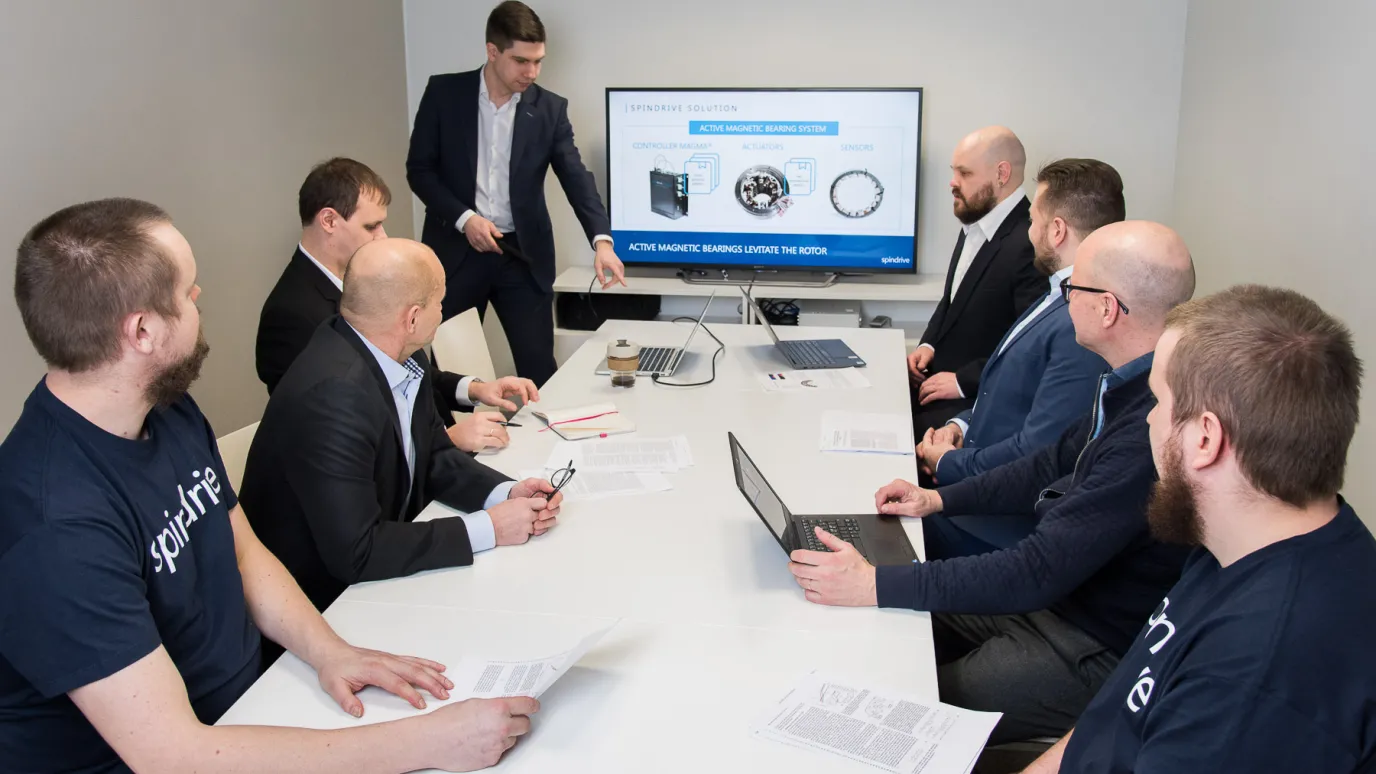 For investors

GCO offers investment companies insights into the university's startups and business ideas and Research to Business projects.
Research-based startup case
SpinDrive is an example of a research-based startup. The company stems from LUT's research and supplies active magnetic bearings for electric motors in industrial use. The motors help to achieve higher rotation speeds and improve the energy efficiency of industrial processes.The company's own carbon footprint remains small because it uses commonly available materials for its bearings, such as electrical steel and copper.
SpinDrive staff presenting its technology solutions.
Rooted in LUT's high-speed technology
SpinDrive was established in 2015 by four technology graduates from LUT University. Janne Heikkinen, CEO, studied vibrations in rotating machinery in his doctoral dissertation in 2014. Alongside his dissertation research, he was a project manager in a Research to Business project funded by Business Finland. The project inspired the foundation of SpinDrive.
"Without LUT, there would be no SpinDrive. We collaborate with the university in research and development, we have given case assignments for courses and we commission final thesis studies. LUT cultivates new talent for us to hire, and LUT's education is highly important to us," Heikkinen describes the company's current collaboration with LUT.
SpinDrive specialises mainly in software development and cloud services. The company has offices in Helsinki and Lappeenranta.
"In addition, we utilise the laboratory facilities at the Lappeenranta IVH Kampus for hardware development and testing. However, our main focus is on software," Janne Heikkinen states.
SpinDrive's equipment is controlled remotely. Most companies in the manufacturing industry adopt active magnetic bearings in new applications or new product lines. However, technology in older devices may also be updated.
"A small share of our implementations involves retrofitting. If the resources needed to maintain and service an older production line keep increasing, it may be more sensible to invest in new and improved technology," Heikkinen outlines.
SpinDrive team and their product.
At the moment, SpinDrive employs seven people. The company is aiming for extensive growth and the serial production of its control power electronic device. Increasing awareness of the technology is one of the keys to success. To promote general awareness, the company has recently released a tool on its website. The user feeds input numbers, and the tool will show what a tailored active magnetic bearing that meets the input requirements would look like.
"SpinDrive's mission is to change the market to make levitation technology available to actors of all sizes regardless of their industry sector. Even to those who, up to now, have not had access to efficient, sustainable technology," Heikkinen sums up.
Software is an important part of the product and its functionality.
"In practice, we improve, for instance, the energy efficiency of turbo compressors and fans, distributed energy production applications and waste heat recovery systems. At higher rotation speeds, the same functionality can be achieved with lower electricity consumption," Janne Heikkinen explains. 
Active magnetic bearings levitate a rotating axis, enabling completely oil-free operation. This also improves efficiency and reduces the carbon footprint. An oil-free operating environment does not require oil filters or taking precautions for oil leaks or oil contamination of the end product.
"SpinDrive's innovation is suitable for the food, beverage and pharmaceutical industries, to name a few. It is applicable to nearly any type of production that compresses or transfers gas in its industrial processes. We operate globally, and only a small share of our product supply remains in Finland," Heikkinen concludes.