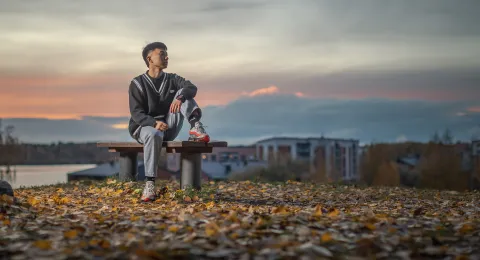 Master's Programme in Mechatronics
Mechatronics is a modern multidisciplinary field of science which combines mechanical engineering, electrical engineering, computer science and digitalisation in the design and manufacturing processes of industrial products and machine systems.
Degree
Master of Science in Technology
School
LUT School of Energy Systems
Regular admission
1 December 2023–17 January 2024 at 15:00 (UTC+2)
Tuition fee
EUR 13 500/academic year for non EU/EEA students. No tuition fees for EU/EEA students.
left
In the Master's Programme in Mechatronics, you will learn how to apply artificial intelligence to control systems of machines and processes, including maintenance, services and programming. You will learn about digital twins and autonomous machine systems and the development and usability of user interfaces.
The core of the Master's Programme in Mechatronics consists of the theory and practice of mechatronic systems, basics of robotics, programming and control systems, digitalisation and simulation.
This master's programme enables you to understand how a circular economy works and to identify its key impacts and significance in modern society. You will find out how to apply the concepts of a circular economy to digital engineering and integrate them into design and decision-making processes. You will learn about the criteria for material selection and its effects on the functionality of a circular economy and will be able to evaluate and select materials from the perspectives of sustainable development and a circular economy.
Courses deal with topics such as applied mathematics, fluid power, reliability-based engineering, and digitalisation. Most of them include lectures, exercises, and laboratory work. Many laboratory assignments deal with real-life industry problems, such as automation.
 
left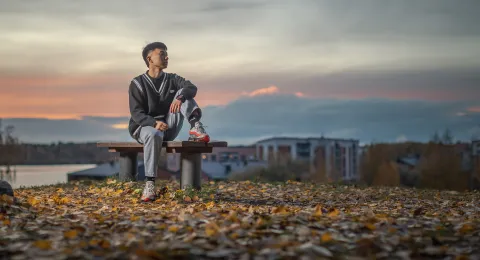 right
What will you learn in the programme?
During the programme, you will acquire extensive knowledge of the design of mechatronic machines and machine systems, their user interfaces and control systems. 
You will acquire:
competences in areas such as mechatronic system design, applications of control systems in mechatronics, the energy efficiency of alternative drive solutions, robotic system design, theories and practices of digital methods, and tools for different phases of the product life cycle;
multidisciplinary project work skills for cooperating with experts from different fields of engineering and for understanding the importance of business, energy efficiency, overall sustainability and environmental friendliness. You will participate in theoretical and methodological courses integrated into projects with regional companies and learn to see problems from multiple perspectives and solve them optimally by utilizing mechatronic systems;
professional skills to develop and design mechatronic systems cost-effectively and sustainably – also on the global industrial scale. You will gain skills in the mathematical modelling and computer simulation of machine systems, programming and IT-technology needed in mechatronic systems, and the simulation of mechatronic machines. You will learn to write efficient, clear, and manageable engineering code using high-level linear algebra software, utilize different reliability-based measures for mechatronic systems, apply tools and techniques for the risk analysis of mechatronic systems, and reduce the failure probability of mechatronic systems;
a professional network through practical mechatronics system design projects in close collaboration with Finnish and other European companies. You will face and solve real-life cases assigned by industrial companies.
Degree structure and studies
left
The two-year Master's Programme in Mechatronics leads to the degree of Master of Science in Technology, M.Sc. (Tech.), which is 120 ECTS credits.
The programme includes core studies, advanced specialisation studies, elective studies and a master's thesis.
The content of the programme includes electrical, hydraulic and hybrid power transmission systems – both theory and practical applications. The goal is to help you learn how to improve both energy and material efficiency by utilising mechatronic systems. Further, the programme deals with the environmental aspects and overall sustainability of machine systems.
You can choose business-, environment- or IoT-oriented courses for your elective studies. Consequently, the programme gives you a wider perspective on strategic industrial thinking. In addition, you can include an industry internship in your personal study plan.
Lectures and exercises take place both online on the Moodle platform and on campus. Contact teaching mainly takes place on the Lahti campus, but some laboratory tutorials are held on the Lappeenranta campus.
Most laboratories and other facilities of the Department of Mechanical Engineering are located in Lappeenranta, but some are also available in Lahti. Blended teaching makes this programme suitable for people with a full-time job.
left
The high quality of our education is an aspect on which we will not compromise. International programme accreditations ensure the continuous development of our education and the international recognition of the degrees of our graduates. LUT University was one of the world's top 300 universities in the autumn 2023 THE World University Rankings, which is one of the most highly regarded university ranking systems.
 
right
Our long-standing, systematic quality management guarantees the high quality of our degree programmes and the strong competence of our graduates in the labour market. The underpinning elements of our education quality are the contents of our degree programmes, which are based on innovations of scientific research and the needs of the working world, and active student–teacher interaction. We evaluate the quality of our education through several follow-up procedures and feedback channels (e.g., course feedback, graduate feedback, alumni feedback, thesis commissioners' feedback). We also listen carefully to the wishes of our industrial partners and alumni.
left
The demand for experts in mechatronics is growing due to new technological developments and their importance in the development of our society.
right
Graduates of the programme have wide-ranging career possibilities in industrial companies as design engineers, design managers, product designers, or developers of production. The programme will give you excellent competences to work as a researcher in various organizations or continue your academic studies at the doctoral level.
Subscribe to our newsletter
The LUT newsletter is your guide to what's happening on campus and in the student community, delivered directly to your email each month.