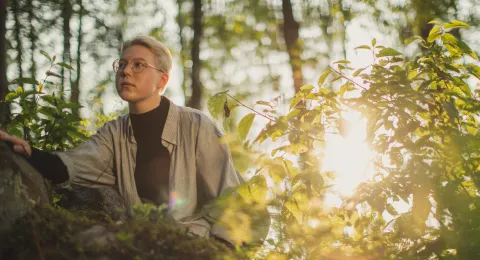 Master's Programme in Energy Conversion
Knowledge of energy conversion is essential in designing energy systems for a sustainable future.

Degree
Master of Science in Technology
School
LUT School of Energy Systems
Regular admission
1 December 2023–17 January 2024 at 15:00 (UTC+2)
Tuition fee
EUR 13 500/academic year for non EU/EEA students. No tuition fees for EU/EEA students.
left

right
EUR-ACE® and ASIIN are quality labels for engineering degree programmes at the Bachelor and Master level. The programmes were accredited in 2012 for the first time and the re-accreditation took place in 2017.
left
Energy production is in transition. Energy consumption is increasing globally, and energy production currently causes significant environmental impacts from greenhouse gases to particle emissions.
It is clear that we need more energy and that we need clean energy. The Master's programme in Energy Conversion gives you a comprehensive understanding of how different energy production and conversion methods relate to each other and act as components in energy systems.
In this programme, you will learn to understand how different production/conversion methods are used and how they compare with each other in different applications.
right
What will you learn in the programme? 
In this programme, you will understand the technical, environmental and economic aspects of energy conversion and how they compare in producing sustainable and feasible energy for society.
After completing this master's programme, you will possess:
professional skills to work as a specialist in energy technology;
competence to analyse, design and select energy conversion processes for different applications, taking technological, economic, environmental and societal aspects into account;
knowledge of how to apply and develop mathematical models to solve energy technology problems and design energy technology related equipment, plants, processes and systems;
managerial skills to manage and organise both national and international projects.
Degree structure and studies
left
The Master's Programme in Energy Conversion is a two-year programme. It leads to the degree of Master of Science in Technology, M.Sc. (Tech.), which is 120 ECTS credits.
The programme includes core, advanced specialisation, minor and elective studies as well as a Master's thesis. Read more in this academic year's curriculum.
left
The high quality of education is one of the most important principles on which we will not compromise. International programme accreditations ensure the continuous development of our education and the international recognition of the degrees of our graduates. LUT University was one of the world's top 300 universities in the autumn 2023 THE World University Rankings, which is one of the most highly regarded university ranking systems.
 
right
The systematic quality assurance procedures that we have developed over a long period guarantee the high quality of our degree programmes and the strong competence of our graduates in the future labour market. The underpinning elements of our education quality are the contents of our degree programmes, which are based on innovations of scientific research and the needs of the working world, and active student–teacher interaction. We evaluate the quality of our education through several follow-up procedures and feedback channels (e.g., course feedback, graduate feedback, alumni feedback, thesis commissioners' feedback).
left
The programme will provide you access to the latest information about the renewable energy sector and how it affects your future career.
You will train to work in international, multidisciplinary and multicultural environments.
The global energy sector is constantly growing and transforming. There is huge global demand for specialist to further develop existing, established conversion methods and to develop and research new energy production and conversion methods. Our graduates can accelerate this transition and growth.
right
Our graduates work in many fields, typically in research and development, in energy production companies or equipment manufacturers, in sales, as managers, consultants, civil servants etc. There are suitable positions in every field of the working world: large companies, SMEs, government organizations, research institutes, and NGOs.
You will also obtain a firm basis and competences to continue your studies in doctoral programmes.
Subscribe to our newsletter
The LUT newsletter is your guide to what's happening on campus and in the student community, delivered directly to your email each month.