Researcher in technology or business, do you want to commit to research and education in your field?  Are you a bold and open-minded trailblazer? Find out about career opportunities at LUT.
LUT can offer researchers a tenure track with logical advancement possibilities up to full professor.
Researchers selected for the tenure track must have research and teaching merits, proof of effective research and the acquisition of external research funding, and international experience.
Before the start of the employment relationship, criteria for performance and advancement on the tenure track are set in writing. Researchers are then aware of what is expected of them and how their advancement is assessed.
Researchers annually have a performance target discussion with their supervisor concerning their duties, objectives, professional development and the need to develop their expertise.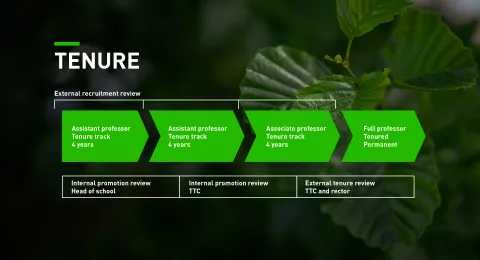 LUT is committed to the researcher's advancement on the tenure track if the researcher meets the evaluation criteria, is suitable for the work and conducts research that implements LUT's strategy, and LUT's financial and operational situation enable the advancement.
Promotion to the next level on the tenure track is based on an evaluation of the following areas:
Scientific research
Academic education
Societal impact
Academic leadership
Acquisition of external funding
Operation in the science community
Welcome to the LUT research community!