Orientation and peer tutors
When you are starting your Bachelor's or Master's programme, you will receive support from other students and the study guidance staff of your school and programme. First-year Bachelor's students are introduced to life at the university over a period of several weeks.
The first orientation week takes place before the academic year actually starts. This enables taking enough time to focus on the orientation. Master's students, who already have experience of studies, receive a more compact orientation package than Bachelor's students.
Students are divided into smaller groups with other students from the same degree programme. Each group is assigned a more advanced student tutor to help with practical matters related to studies: registration for courses, drawing up a personal course schedule, finding places on campus. A more experienced student can provide valuable help in questions such as these. Staff members from Student Services and the degree programmes will also introduce themselves and help new students from the very beginning.
Students will learn about online services, facilities on campus and many other important practical matters during their orientation. In addition, the range of social events targeted for them serve an even greater purpose: they aim to welcome every new student into the LUT community.
A breathtaking number of events and new information and dozens of new friends – maybe even friendships that last a lifetime. This is how most LUT graduates look back on their first weeks at LUT.
left
Organisation of the academic year
LUT's academic year is divided into four teaching periods: the first two are in the autumn semester and the third and fourth are in the spring semester.
Each teaching period ends in an exam period, which means a week or two of exams. Although most final exams take place during exam periods, some may also be arranged at other times.
Intensive courses may also be organised during exam periods. In addition, LUT's open university education includes intensive courses in the evenings, on weekends or in summer, which provides LUT's degree students flexibility in carrying out their studies.
Courses and degree structures
Degree programmes organise their studies based on their prevailing curriculum, which is presented the academic year's study guide. LUT publishes separate study guides for technology, business and language studies and Master's programmes taught in English. The study guides are available in the student portal eLUT.
Study guides describe each degree programme's structure, study modules (e.g. major and minor subjects), and individual courses and their learning outcomes. The degree structure serves as a basis for your personal study plan, which you will prepare with the help of your peer tutor, your school's student services and your degree programme's teacher tutors.
The degree structure presents your degree's compulsory courses and modules and the share of courses you can choose based on your own interests. Course descriptions will help you understand the connections between the courses (e.g. prerequisites for each course), how much work the courses require, and how your knowledge and skills will develop by taking the courses.
The scope of each course is presented in ECTS credits. The number of credits reflects the amount of work on the course. One ECTS credit corresponds to an average of 26 hours of work by the student. Each course is worth at least one credit, and more extensive courses that take more than one period may be up to 10 ECTS credits. A course may be taught during one or several periods, and each course may be lectured once or more than once during the academic year.
Final and midterm exams
University courses usually involve a written final exam, which takes place after the course is finished and which assesses how well you have learned the course content. Some courses may assess learning with so-called midterm exams when the course is still ongoing. Exams are largely based on course materials, such as suggested literature and course handouts.
At LUT, students need to register for exams in advance – at least a week before the date indicated in the exam schedule. Students have two opportunities to take each exam. If they do not pass the exam in two attempts, they need to apply for an additional retake from the teacher in charge of the course.
Courses are usually assessed on a scale of 1–5 (5 being the best grade) or pass/fail. In addition to exam grades, also other factors may influence the final grade for the course.
left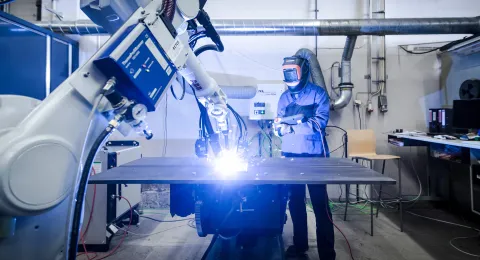 right
Lectures, assignments and laboratory work
Teaching events and required work on a course may vary depending on the subject and teacher. A typical course includes lectures, tutorials that apply what was taught on the lectures, and assignments done in small groups or independently.
Students have academic freedom, which in simple terms means that attendance in class may not be obligatory. Attendance does, however, make learning easier.
LUT's teaching is based on scientific research, and student assignments help apply it to practice and bring it closer to real-life business challenges. Assignments often deal with real-world situations and may be commissioned by partner companies. Examples include a marketing plan for an enterprise expanding its operations or examining the environmental impacts of industrial processes.
Degree programmes often include practical laboratory work in their curriculum. For example, chemical engineering students conduct a great deal of chemistry tests and computer science students develop new games. Laboratory applications also introduce interesting and surprising contents to many other degree programmes. What would you say about building an electric bus as a student project?
Subscribe to our newsletter
The LUT newsletter is your guide to what's happening on campus and in the student community, delivered directly to your email each month.