The Times Higher Education (THE) rankings are among the world's most prestigious university rankings. The THE Impact Rankings rate universities based on how well they promote the UN's Sustainable Development Goals.
In the 2022 Impact Rankings, LUT reached the top 101–200. The comparison included a total of 1 406 universities. LUT improved its position significantly even though the number of universities in the ranking rose by nearly 300. In the previous ranking, LUT was in the top 201–300.
"The most exciting part is that we ranked ninth in the world in climate action. This shows that our climate-focused strategy yields results. LUT genuinely contributes to solving the global climate crisis," says Jari Hämäläinen, LUT's vice rector for research and innovation.
According to Hämäläinen, the university's Trailblazers strategy successfully aligns with the UN's Sustainable Development Goals. The practical outcomes of the strategy include the fact that international students choose LUT because of its climate actions and that highly regarded climate reports increasingly cite LUT's ambitious research. For instance, the most recent report by the Intergovernmental Panel on Climate Change (IPCC) widely cites LUT's research and technological solutions.
LUT was the only Finnish university to improve its ranking. Of the eight Finnish universities included in the Impact Rankings, LUT placed first. Aalto University and Tampere University claimed the second highest position (top 301–400).
Headed towards the global top 100
The UN's 2030 Agenda for Sustainable Development contains 17 Sustainable Development Goals (SDGs) that aim to promote the well-being of humans, the environment and the economy. LUT was assessed with regard to seven SDGs.
LUT rose to the top 100 in terms of three SDGs. The ranking indicates that LUT has promoted partnerships for the goals (SDG 17) especially well, placing 44th. LUT improved its position in all areas of the goal and received the best possible score for its sustainability report.
Kati Koikkalainen, the university's sustainability manager, lists reasons behind LUT's success:
"Many factors are involved: influencing national and international decision-making, close collaboration with our stakeholders, such as our climate-conscious campus cities, and our investment in sustainability know-how through our Junior University activities and open university education."
"It is important that we engage in international sustainable development commitments and networks and have succeeded in the systematic development of our responsibility reporting," Koikkalainen lists.
Kati Koikkalainen states that LUT is well on the way to the top 100 of the THE Impact Rankings and to becoming carbon-negative in 2024, which are the university's strategic goals.
Jari Hämäläinen
Vice president, research and innovation
University Management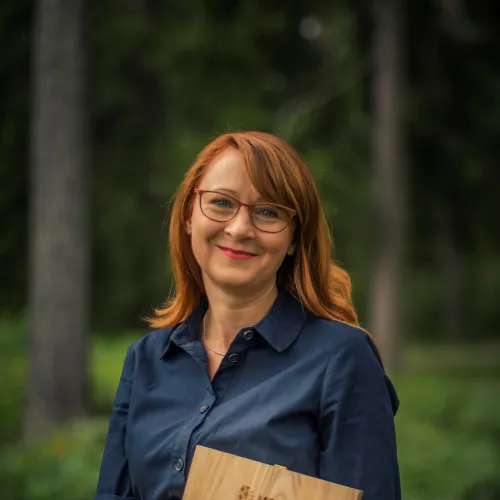 Kati Koikkalainen
Sustainability Manager
University services, common