Demolition waste and stormwater are two wrongs that can make a right: combining these two problems can lead to innovations that are beneficial for the environment. In a new three-year project, LUT University is developing filtration compounds from construction and demolition waste to purify stormwater runoffs.
Statistics Finland states that Finland produces a staggering 1.6 million tons of construction and demolition waste a year. Brick and concrete waste and mineral wool insulation are difficult to recycle, but LUT is using them to create filtration compounds for stormwater treatment. The first step is to test the materials in soil laboratories in Lahti, Finland. Then, the tests will continue in dammed ponds in Lahti, Estonia, and Latvia.
"The world is constantly seeking new, cost-efficient ways to reuse construction and demolition waste. Using them to treat stormwater runoffs could open up new opportunities," says Professor Timo Kärki from LUT's fibre composite research group.
left
Stormwater contains harmful pollutants
Rainwater and stormwater runoffs contain more nutrients, heavy metals, salts, sediment, oil, and microplastics than previous estimates have suggested.

Stormwater is often steered from streets towards sewers or gutters, which lead it untreated into water bodies.

Substances carried by stormwater may be harmful or toxic to aquatic life, such as fish. They eutrophicate and muddy waters, accumulate sludge, and may also deteriorate the quality of groundwater.

Even though the impurities of runoffs initially affect local inland waters, they ultimately affect sea water quality as well.

LUT's separation science and fibre composite researchers are looking for novel ways to apply recycled materials to filter stormwater.
right
Construction and demolition waste must be recycled more
Construction and demolition waste is still rather moderately utilised because it contains materials that are difficult to recycle or reuse.

The recycling and utilisation rate of construction and demolition waste in Finland was less than 60 per cent in 2020 even though the EU requires a recycling rate of 70 per cent.

Crushed concrete can be utilised for earthworks, but new construction and demolition waste applications with added value still need to be invented.

LUT is aiming to create and test a cost-efficient filtration system from recycled materials. The solutions should be replicable at different locations regardless of the mineral composition of the local demolition waste.
Water treatment and the recycling of materials may create new business opportunities for local enterprises and help cities and municipalities to build environmentally friendly solutions for the treatment of stormwater.
The three-year development project that started in April 2023 is a collaborative effort by the City of Lahti, LUT University, the University of Helsinki, Tallinn University of Technology, the Union of Harju County Municipalities in Estonia, and Smiltene Municipality in Latvia.
right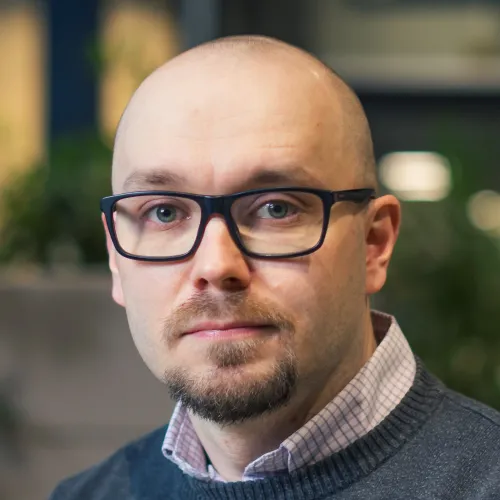 Ville Lahtela
Post-doctoral researcher
Mechanical Engineering