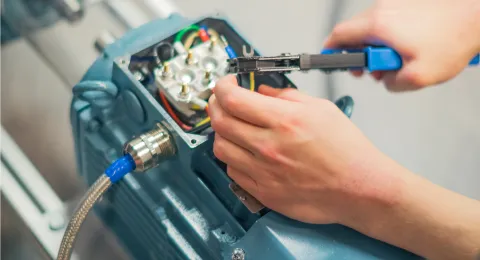 Bachelor's Programme in Electrical Engineering
Electricity plays a key role in mitigating global climate change. Renewable energy, the global revolution in energy production and the need to increase the efficiency of energy use provide electrical engineering professionals with jobs now and in the future.
Degree
Bachelor of Science in Technology + Master of Science in Technology (optional)
School
LUT School of Energy Systems
Duration
3 + 2 years (3 years of Bachelor's + 2 years of Master's studies)
Regular admission
3–17 January 2024 at 15:00 (UTC+2), with degrees completed in Finland.
Rolling admission
1 November 2023–15 May 2024 at 15:00 (UTC+3), with degrees completed outside of Finland.
Tuition fee
EUR 9 000/academic year for non EU/EEA students. No tuition fees for EU/EEA students.
left
Electrical engineering is for you if you are not afraid of challenges, you are interested in how things work and you look forward to being part of the energy transition. As an expert in electrical engineering, you will have a great opportunity to contribute to the technological revolution and an electronic future.
In this Bachelor's programme, you will learn how to apply your skills to reform the electronic society. With modern technology, for example, solar energy can be used to produce fuel, and people's well-being is promoted through various electronic applications. In addition, digitalisation and the Energy Internet bring new opportunities for utilising the electricity grid. The emphases of the programme have been selected on the basis of the skills required in the working world.
The Bachelor's Programme in Electrical Engineering is a unique, international double degree programme developed in cooperation with Hebei University of Technology (HEBUT) in China. Students admitted to this bachelor's programme will receive a degree certificate from two universities, LUT and HEBUT, after they have fulfilled the degree requirements of both universities. Students complete the entire degree in Lappeenranta, Finland.
Note: Those holding Chinese citizenship are subject to regulations set by Chinese Ministry of Education and must directly apply to HEBUT in order to get double degree. Non-Chinese speaking students must pass a language test during their studies at LUT to receive a degree from Hebei University of Technology. The language test assesses takers' abilities in the application of everyday Chinese (Mandarin). Test contains listening  and reading comprehension and writing sections. Students  who have passed the language test can communicate in Chinese at a basic level in their daily, academic, and professional lives. They can manage most communication in Chinese when travelling in China. For more information, contact admission@lut.fi.
What will you learn in the programme?
right
In this programme, you will learn to understand how electrical energy is generated, how it is transmitted and used, how electrical systems are controlled, and how the electricity market works. You will also learn to develop new electrotechnical equipment and systems.
Your studies will emphasise energy efficiency and the production and use of clean energy. This involves deep understanding of emerging technologies such as smart grids, wind and solar energy, electrical machinery, automation and power electronics, among other things. You will develop an excellent understanding of the phenomena related to electricity and the operating principles of electrical engineering and electronics.
At the end of the programme, you will be able to use basic skills in mathematics and science and solve problems by applying suitable mathematical methods. You will be aware of the essential laws of physics and be able to apply them to various physical processes, understand physical phenomena and be able to solve problems related to them, describe simple dynamics systems using continuous time differential equations and simulate them, and use digital solving environments in the practical applications of the methods.
You will understand the principle of feedback control and apply the basic methods of control engineering in devices and machines.
Guidelines and regulations of electrical safety will become familiar to you: you will learn about electrical installations and electromagnetic compatibility and act according to them in the case of an electrical accident.
Degree structure and studies
left
The Bachelor's Programme in Electrical Engineering is a three-year double degree programme. The programme leads to the degree of Bachelor of Science in Technology, B.Sc. (Tech.), which is 180 ECTS credits.
The programme includes general, intermediate specialisation, minor, language and elective studies as well as a Bachelor's thesis at the end of the studies. Read more in this academic year's curriculum. 
After completing a bachelor's degree in the electrical engineering programme, you can continue your studies in the Master's Programmes in Electrical Engineering and Electric Transportation Systems. In addition, you can apply separately to the Sähkötekniikan DIODI (in Finnish) master's programme.
left
The high quality of education is one of the most important principles on which we will not compromise. International programme accreditations ensure the continuous development of our education and the international recognition of the degrees of our graduates. LUT University was one of the world's top 300 universities in the autumn 2023 THE World University Rankings, which is one of the most highly regarded university ranking systems.
 
right
The systematic quality assurance procedures that we have developed over a long period guarantee the high quality of our degree programmes and the strong competence of our graduates in the future labour market. The underpinning elements of our education quality are the contents of our degree programmes, which are based on innovations of scientific research and the needs of the working world, and active student–teacher interaction. We evaluate the quality of our education through several follow-up procedures and feedback channels (e.g., course feedback, graduate feedback, alumni feedback, thesis commissioners' feedback).
left
Emerging energy systems, energy-efficient technology, smart grids, electrifying transport and the electricity market guarantee graduates of electrical engineering work now and in the future.
New experts are needed for product development, project engineering, sales and marketing, and management positions. Your job responsibilities may include, for example, the design, product development, technical sales or production management of electrotechnical equipment and its production.
There is also a growing need in the market for electrical trading engineers and electrical work managers. As private solar and wind power plants become more common, power plants are also experiencing a time of change. Thus, graduates of electrical engineering will have enough work in both industry and municipal positions.
right
Master's graduates in electrical engineering have gone on to become:
Technology manager
Testing and automation engineer
Design engineer
Product development
Technical sales engineer
Electricity company manager
Subscribe to our newsletter
The LUT newsletter is your guide to what's happening on campus and in the student community, delivered directly to your email each month.