On this page
In a turbulent world, businesses that embrace sustainability are often the ones that prosper. Consumers and other stakeholders are concerned about the state of the planet and demand responsible action from companies. Sustainably operating businesses are responding to the changing expectations, and the best of them can both anticipate and prepare for them. This involves taking into account a wide range of economic, ecological and social impacts that may affect their own activities and their networks.
"The issue is important because responsible business is a powerful solution to global problems. Sustainability is the only feasible approach to business these days", says Paavo Ritala, Professor of Strategy and Innovations at the LUT Business School. 
Sustainable businesses aim to withdraw from the conventional 'race to the bottom' thinking where environmental or labour regulations are eased to remove obstacles to successful business. LUT Business School believes that Europe cannot become involved in a competition to see which countries give businesses the best tax advantages, lowest wage requirements or most efficient infrastructure at the expense of environmental values.
"The prosperity and well-being of a nation must be founded on the promotion of sustainable and responsible businesses. This also includes economic responsibility; for instance, where the company pays its taxes", says Ritala.
left
LUT Business School supports sustainable corporate renewal
LUT Business School adheres to the UN Principles for Responsible Management Education
All business students complete studies on the principles of sustainability and corporate social responsibility
Research areas: sustainable value creation, sustainable business models, sustainable customer value propositions, sustainable and responsible supply networks, corporate responsibility practices, international entrepreneurship, the impact of digitalisation on business practices, corporate renewal ability, the utilisation of data in business, business analytics and bioeconomy (e.g., forest industry transformation)
left
Finland in the forefront of corporate social responsibility
Sustainable businesses in Finland have become a global benchmark for promoting social sustainability, which seeks to eliminate inequality between people and promote the realisation of fundamental rights. In Finland, working culture widely adheres to the principle of fairness and institutions are built on trust, providing a good example for others to follow.
According to Post-doctoral researcher Anne Quarshie, in order to achieve global impact, companies should extensively require sustainability from their stakeholders – that is, beyond the company's boundaries.
"In terms of social issues, Finnish legislation guarantees good working conditions, but a company's entire supply chain may not be able to do the same", Quarshie points out.
Quarshie has observed that corporate social responsibility in Finnish businesses has become more systematic and ambitious in the 2000s. Companies also increasingly bear responsibility for environmental issues, as corporate responsibility professionals have gradually awoken to the loss of global biodiversity.
right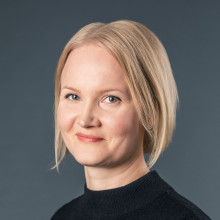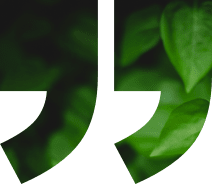 The time for silence or lukewarm communication on responsibility is over.
Quarshie has explored these issues with her colleague, Post-doctoral researcher Laura Olkkonen, in their book Corporate social responsibility in Finland: Origins, characteristics, and trends. Responsibility thinking is now embedded into organisational cultures instead of being an afterthought, as it previously was.
"If a company wants to stand out and achieve a competitive edge, it must take action and create positive impacts – not merely attempt to avoid negative ones. A responsible company goes above and beyond the letter of the law", Olkkonen  summarises.
Finnish companies also communicate more boldly about their responsibility and welcome related criticisms. In the best case scenario, criticism may trigger debate and lead to necessary changes. According to Olkkonen, pioneering companies introduce new ways of acting responsibly, such as Finlayson's woman's euro equality campaign, inspiring other businesses to communicate more openly. External and internal communication are needed to promote corporate responsibility.
"Fear of an uproar no longer prevents businesses from pursuing societal impact. The time for silence or lukewarm communication on responsibility is over."
left
More about the topic:
Sustainable and responsible supply networks
Data analytics and artificial intelligence as corporate tools
A community committed to sustainability
right
Platform economy reforms business models, value chains and ecosystems
Business becomes more sustainable through renewal: startups are founded, large enterprises undergo reforms, and businesses grow and find international markets and contacts.
In addition to sustainability thinking, the global corporate renewal is driven by a megatrend related to platform economy, digitalisation and data. In the best case scenario, digitalisation and sustainability can support each other.
Digital platforms can enable, for example, the mutual exchange, sharing and recycling of services and goods between businesses, between businesses and their customers, and between people. Data collected on platforms may provide information on, for instance, a surplus of resources that the company may sell or rent to a third party. Such solutions can contribute to the transition to a circular economy.
Paavo Ritala anticipates that data available on global industrial platforms will be increasingly used to develop ecologically and economically sustainable business. New business models can be created even in the far north, for example around ethically sustainable values.
"Our Scandinavian culture of trust may be an advantage in these platform solutions, where success is based on network effects, exchange between users and businesses and on the innovative solutions in terms of resource efficiency and circulation."
left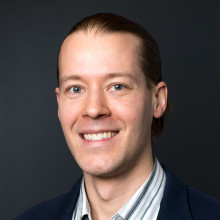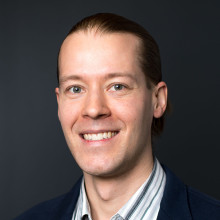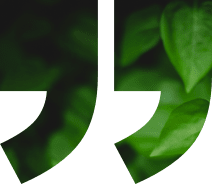 Enterprises influence how we see the world by demonstrating that they can achieve results sustainably despite the highly competitive business environment.
right
Profitable business with a social mission
LUT Business School is interested in economic macro phenomena, such as platform economics and digitalisation, from a sustainability perspective. LUT aims to understand the actions and strategies that enable businesses to create value sustainably and prosper in the future. By now it is acknowledged that new business strategies can put their focus on intangible value creation.
"In addition to financial value, business often generates social and cultural value. When value creation is intangible, we can focus on aspects that create meaning and experiences to the world", says Ritala.
In sustainable corporate renewal, companies not only recognise their impact on socially and globally important developments, but also communicate actively about them. In fact, to consumers and investors, ethical metrics have risen in importance alongside monetary ones.
"Our values affect our purchasing behaviour. We're often prepared to pay more if we know that the product is, say, environmentally friendly", Ritala sums up.
left
In an ideal situation, a company will develop value promises that create value for consumers and society, while being ecologically sustainable. Social enterprises are close to this ideal: instead of maximising profits, they for instance aim to utilise industrial by-product flows or provide jobs for the long-term unemployed.
The result of social enterprises is reflected in the changes they bring about in people's lives or in the state of the environment.
A study conducted at LUT shows that the importance of social enterprises will grow by 2025, often reflecting the need to employ young people.
According to Researcher Saila Tykkyläinen, growth strategies of social enterprises are challenged by how well the business performs in the market while fulfilling its social function.
"In the best scenarios, a positive cycle is created for both missions. For example, restaurants that rescue surplus food are success stories in this field", says Tykkyläinen.
right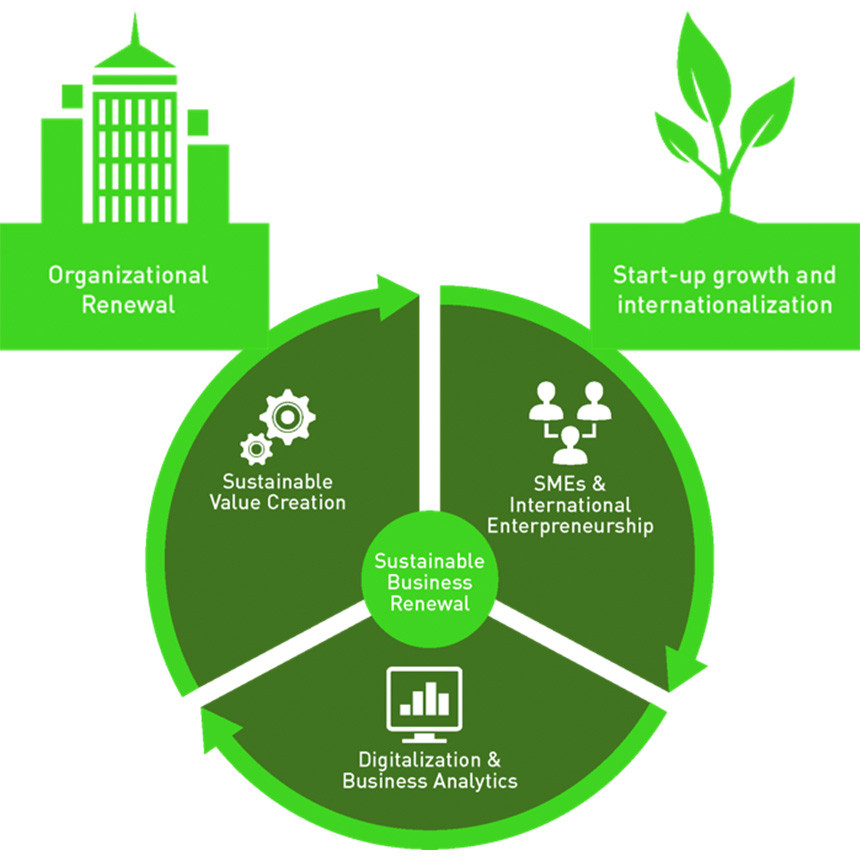 Finns are good at innovation and networking but bad at commercialisation
LUT Business School has long history of examining business networks, communities and ecosystems. The best companies innovate and implement new solutions in collaboration with a wide range of actors. Traditionally, Finland has had a strong culture of cooperation and working together.
"Trade associations and industrial forums keep popping up in Finland. Universities, society and businesses operate in dynamic innovation ecosystems around sustainability themes", says Paavo Ritala.
For example, LUT University is a member of the Package-Heroes research consortium  that creates plastic waste-minimising innovations in collaboration with VTT, the Natural Resources Institute Finland, and Åbo Akademi University. By developing power-to-X technologies, LUT enables different sectors to distance themselves from fossil fuels. Nevertheless, the transition from development to international business is not a simple one.
"It entails the classic dilemma that Finns excel at engineering but fail at marketing. Swedes have been much better at branding and commercialising their know-how."
Luckily, there are successes too. For example, the LUT spinoff Visedo (now part of the Danfoss Group), which provides electric drivetrains for the engines of heavy-duty machines, is taking over Asia.
"If our solutions represent more sustainable business than what the rest of the world is offering, we need to package and market it in a way that brings Finland a genuine competitive edge. In fact, different scientific and political mechanisms could be employed to support the internationalisation of sustainable solutions", Ritala suggests.
left
Businesses and experts will change the global economic system
The global economic system will become more sustainable as businesses modify their operations to respond to the changing business environment. The time is apt for a sustainability transformation in business, as internationalising family-owned companies, renewing SMEs, and social enterprises recognise climate change as a serious threat to humanity. This threat cannot be curbed by the continuous exploitation of natural resources and labour or through other less sustainable ways to do business.
"Enterprises influence how we see the world by demonstrating that they can achieve results sustainably despite the highly competitive business environment. Values and attitudes change through examples and political decisions", Paavo Ritala emphasises.
LUT fosters change by educating researchers, future influencers and leaders who think sustainably. The research carried out by the LUT Business School can be used to develop Finnish services and production as well as the competitiveness of European industries.
"Pursuing growth in the global gross domestic product at any cost relates to an outdated model. That's not what we want to do – we want to promote the global dissemination of sustainable business models and green technology", Ritala concludes.
right
Sustainability and corporate renewal
According to Agenda 2030, social and economic development depends on sustainable management of the Earth's natural resources. Agenda 2030 includes 17 UN Sustainable Development Goals and 169 sub-goals.
Sustainable economic development means balanced economic growth without excessive debt or overconsumption of capital, and taking the capacity of the environment and future generations into account. A sustainable and stable economy lays a foundation for other sustainable development.
The premise of sustainable ecological development is adapting human activity to the Earth's capacity and natural resources. It is important to safeguard the planet's biodiversity and the functioning of nature's ecosystems.
Sustainable social development aims to ensure human well-being. The goal is to remove inequality and ensure a sufficient livelihood, adequate health care, access to education and realisation of fundamental rights for all.
Definitions of sustainable development: UN and sustainable development themes.
left